Decline's demise gives rise to Joeys Coop
All eyes turn to Marrickville in Sydney's inner-west on April 11 for the debut of Joeys Coop, a band whose ranks read like a who's who of inner-Sydney underground (and overground) rock.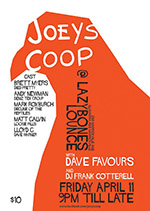 Joeys Coop features guitarist Brett Myers of Died Pretty, vocalist Mark Roxburgh of Decline Of The Reptiles, bassist Andy Newman (The Visitors, Chris Klondike Mazuak's North 40, The Soul Movers, Deniz Tek Group), guitarist Matt Galvin (Eva Trout, The Happy Hate Me Nots, Perry Keyes and Loose Pills and drummer Lloyd G (Dave Warner, The Atlantics, Perry Keyes.)
Roxburgh formed Joeys Coop late last year after Decline of the Reptiles was inexplicably disbanded from underneath him, after securing a six-figure deal to record overseas.
Venue for the show is Lazybones Lounge and supports are Dave Favours and DJ Frank Cotterell. Doors open at 8pm.
Tags: died, pretty, brett, myers, andy, newman, joeys, coop, decline, reptiles, mark, roxburgh, matt, galvin