Details

By

The Barman

The Barman
Double CD launch for Prehistorics and Stukas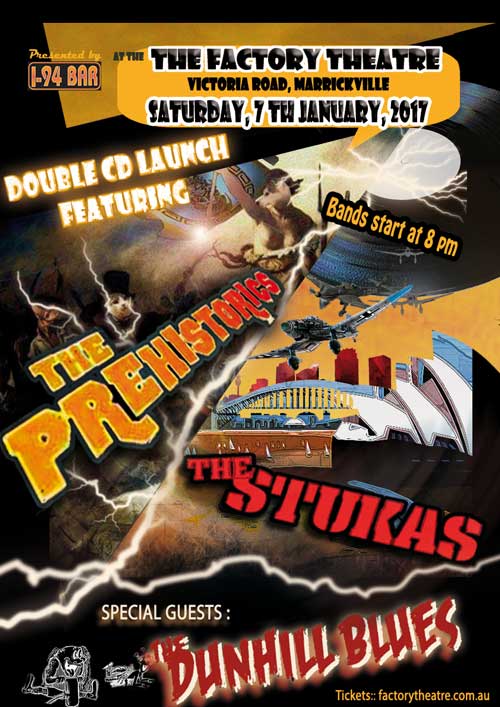 Here's how to start 2017 with a bang: Three of Sydney's best high-energy bands are kicking off 2017 at stun volume on Saturday, January 7 with a dual album launch at The Factory Floor in Marrickville.
Detroit-inspired rifferama melody kings The Prehistorics are launching their fourth long-player, "Storm The Gates", on CD and vinyl with their first gig in 13 months.
Main-man Brendan Sequeira has been dividing his time between Sydney and France and this will be their only home-town appearance before a lengthy European tour.
They took their time about it but The Stukas are finally unleashing their debut CD, "Ju-87", after 30 years of live savagery.
Reputed to be Sydney's most hated band, The Stukas have played with everybody from the New Christs to XL Capris, the Celibate Rifles and New York City's Dictators. It's been a long and hard road but their latest line-up is as energetic and confronting as ever.
The Dunhill Blues recently notched 10 years of gigs all over Australia and Europe, playing their unique hybrid mix of rock, garage, country and punk blues.
The Dunhill Blues play a pummelling, primitive and pulsing style of rock 'n' roll that's best viewed beer in hand. They don't have a new album to launch (they've already released three) but they do have the firepower to shake you out of your post-Christmas stupour.
Tickets will be on sale at the door or save yourself some dollars by pre-booking online here.