Expat Masuak heads Aussie rock celebration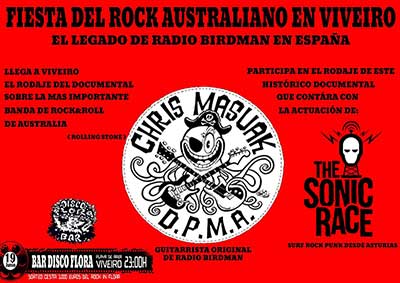 Europe might be getting a taste of a substantially reconfigured Radio Birdman this month but their former guitarist Chris Masuak isn't standing still.
With a new album in the can (recorded with his band The Viveiro Wave Riders) the Spain-based Masuak is star attraction at a gig billed as "The Australian Rock Festival - The Legacy of Radio Birdman In Spain" on June 19.
Bar Flora Disco is the venue, in Masuak's adopted home of Viveiro, and the gig will be shot for a forthcoming Birdman documentary by Australian filmmaker Jonathan Sequeira. Support will come from surf-punk outfit The Sonic Race.
Tags: Masuak, chris, australian, viveiro, sonic race, radio birdman