First Australasian tour announced for Texan legend Alejandro Escovedo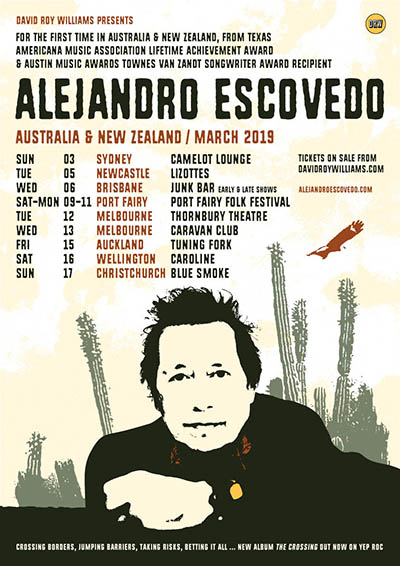 Legendary Mexican-American singer-songwriter Alejandro Escovedo will tour Australia for the first time in March 2018 on the back of his acclaimed new immigration-themed album The Crossing.
 

Escovedo is a seminal figure in Texan music and one of the most acclaimed American songwriters of his generation. He's a recipient of the Americana Music Association's Lifetime Achievement Award and will be honored with the Townes Van Zandt Songwriter Award at next year's Austin Music Awards.


Alejandro has released 11 solo albums and contributed to numerous others, as both band member and guest. His songs have been recorded by the likes of Lucinda Williams, Steve Earle, Ryan Adams, Cowboy Junkies, and Calexico, and he's shared stages with everyone from Bruce Springsteen to John Prine to Mott The Hoople's Ian Hunter.
Alejandro's latest album, "The Crossing", released in September 2018 on Yep Roc and one of the most acclaimed of his career, looks at matters of immigration and the broken Promised Land that is America through the focused and unflinching poetry Alejandro is known for.
It includes cameos from underground rock royalty in the personages of MC5 guitarist Wayne Kramer, Stooges guitarist James Williamson and Peter Perrett and John Perry of The Only Ones, Texan country great Joe Ely and acclaimed novelist and Richmond Fontaine/Delines songwriter Willy Vlautin.
 

REM's Peter Buck and the Velvet Underground's John Cale have both served as Alejandro's sidemen in addition to being his producers, a role also filled by legendary Bowie and T.Rex producer Tony Visconti, who produced a run of three albums for Alejandro spanning 2008-12.


A troubadour-like figure with an ever-expanding clutch of classic and evocative songs, Alejandro Escovedo's past is nothing if not chequered. His trailblazing career began with The Nuns, San Francisco's famed punk innovators who opened the Sex Pistols' final show in 1978,
He continued into Austin-based-based alt-country rock pioneers, Rank & File, whose Slash Records debut Sundownfound a home in many Australian record collections in the early '80s cowpunk days. Austin's blazing '80s guitar army True Believers set Alejandro up as a true local hero, and by the time he released his first solo album in 1992, he was a key player on the national scene. 
 

Alejandro's rise as a solo artist was adjacent to that of the alt-country-slash-Americana movement, and as the scene's pioneer he was named "Artist of the Decade"in 1998 (they named him early because he was the only front-runner) by the movement's influential journal No Depression. His annual performances at Austin's SXSW festival, the patronage of key international media including Rolling Stone and Uncut, and the support of influential Chicago label Bloodshot Records all conspired to push Alejandro to the forefront of the Americana scene by the turn of the century. 
 

American Songwriter has called the album "one of the most passionate, relevant, politically charged and personal projects he has released in a career pushing 40 years."
 
The subject of a strong demand to tour Australia for decades now, the now-Dallas based Alejandro will finally head down under in March.
He'll be performing completely solo – just one of the many configurations in which he works – enabling fans down here to hear something akin to what early fans heard in the small clubs and holes in the wall in Austin and elsewhere when he was starting his solo career. 

Alejandro Escovedo
Australia-NZ Tour
MAR 2019
3 - Camelot Lounge, Sydney
5- Lizottes, Newcastle
6 - Junk Bar, Brisbane
9-11 - Port Fairy Folk Festival, SA
12 - Thornbury Theatre, Melbourne
13 - Caravan Club, Melbourne
15 - Tuning Fork, Auckland
16 - Caroline, Wellington
17 - Blue Smoke, Christchurch
Tickets here
Tags: wayne kramer, yep roc