First benefit show announced for Leadfinger leader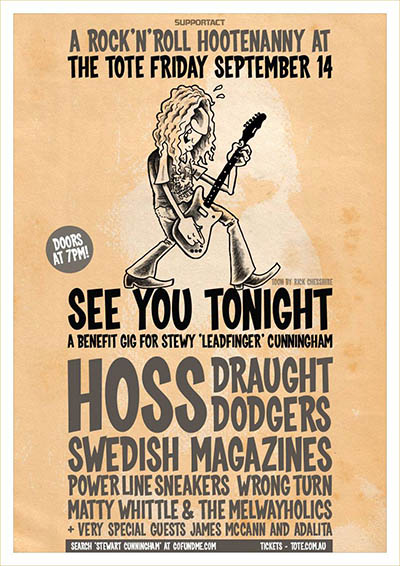 The first benefit show for Leadfinger leader Stewart Cunningham has been announced and it boasts a star-studded line-up.
Hoss is headlining the September 14 show at The Tote Hotel in Melbourne. They'll be joined by supergroup The Draught Dodgers, Swedish Magazines, Powerline Sneakers, Wrong Turn, Matty Whittle (ex-GOD) and the Melwayholics, James McCann and Adalita.
Tickets are available hereand there's a GoFundMe page running for people unable to make it to the show. Organiser James McCann says there will be a stack of prize packs of music and merchandise being raffled on the night.
Cunningham, whose past bands include Asteroid B612, Brother Brick, Proton Energy Pills and Yes-Men, is fighting lung cancer.
A Sydney benefit is in the pipeline.
Tags: leadfinger, asteroid b612, the tote, stewart cunningham, james mccann, see ya tonight