Flamin' Groovies stage a re-birth with new single and album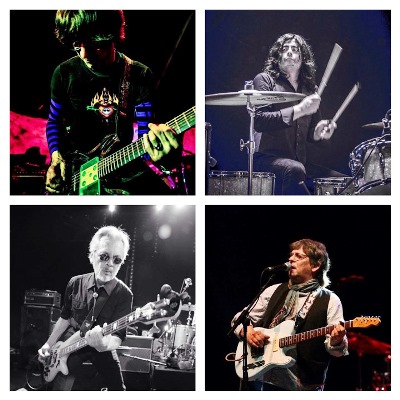 In case you haven't heard, the Flamin' Groovies have a new album dropping in 2016 and a single about to hit the shelves. US tour dates have just been announced for November.
What started as a reunion in 2013 with tours of Japan, Australia, and the UK, has continued and evolved into a full-blown return. In the past two years the band has toured the USA extensively with repeated visits to New York, L.A. and their hometown of San Francisco, as well as recently returning from a hugely successful tour of Spain, France and Italy.
In anticipation of their 50th Anniversary in 2016, they are putting the finishing touches on a new album and a documentary.
Their forthcoming single features two Cyril Jordan/Chris Wilson penned tracks - the recently written "Crazy Macy" and the first track ever written by Jordan & Wilson, "Let Me Rock" recorded for the first time.
You can hear a taste of the new output on teaser track "End of the World" by reading on.
Burger Records will be releasing the single in both cassette and digital formats, with a limited 7" vinyl pressing to follow.
The line-up of Cyril Jordan, Chris Wilson, George Alexander line-up featured on the three albums released by Sire Records, that rocked the UK, Europe and the US from 1971-1980. They continue with the addition of Victor Penalosa on drums.
Thu. Nov 12 – Chicago, IL – Beat Kitchen
Fri. Nov 13 – Detroit, MI – Magic Bag
Sat. Nov 14 – Cleveland, OH – Beachland Ballroom
Sun. Nov 15 – Pittsburgh, PA – Hard Rock Café
Tue. Nov 17 - Hamilton, ONT – This Ain't Hollywood
Wed. Nov 18 – Toronto, ONT – Horseshoe Tavern
Fri. Nov 20 – Philadelphia, PA – Johnny Brenda's
Sat. Nov 21 - Jersey City, NJ – Monty Hall
Sun. Nov 22 – Brooklyn, NY – Baby's All Right
Mon. Nov 23 - Washington, DC – Rock 'N' Roll Hotel
Wed. Nov 25 – Boston, MA – Brighton Music Hall
Tags: Flamin', cyril, jordan, alexander, george