Guess who's coming to town again?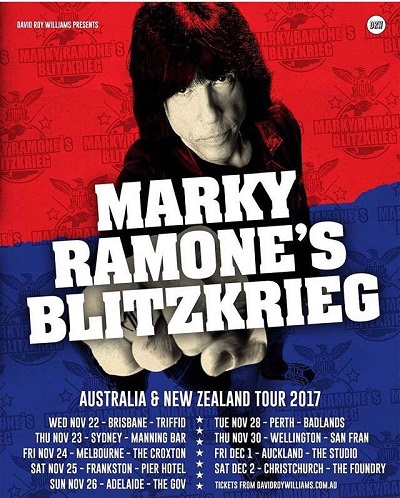 Packing a set-list of "all Ramones, nothing but Ramones", long-time drummer for the Bruddas, Marky Ramone, is bringing his show to Australia and New Zealand in November.
One of three surviving Ramones (excluding Elvis Ramone, who only lasted two shows, and including CJ and Richie), Marky handled skins duties for the classic punk outfit between 1978-83 and '87-96.
An original denizen of the NYC punk scene centered on Max's Kansas City (Marky also played with Wayne County and Richard Hell's Voidoids), he flies the flag for his old band live and as a digital radio host.
No word on the band line-up but Marky Ramone's Blitzkrieg has featured various lead vocalists including Andrew W.K. and Michale Graves.
The Australian leg of the tour is truly national and also takes in three New Zealand cities.
MARKY RAMONE AUSTRALASIAN TOUR
Wednesday 22 November - The Triffid, Brisbane
Thursday 23rd November - Manning Bar, Sydney
Friday 24th November - The Croxton, Melbourne
Saturday 25th November - The Pier Hotel, Frankston
Sunday 26th November - The Gov, Adelaide
Tuesday 28th November - Badlands, Perth
Thursday 30th November - San Fran, Wellington
Friday 1st December - The Studio, Auckland
Saturday 2nd December- The Foundry, Christchurch
Tickets here
Tags: live, ramones, marky ramone