Hard-Ons re-recruit Keish for 30th birthday bashes
Those pop-punk-metal-psych-whatever legends the Hard-Ons are having a 30th birthday party and Australia (and anyone who wants to fly in from overseas) is invited.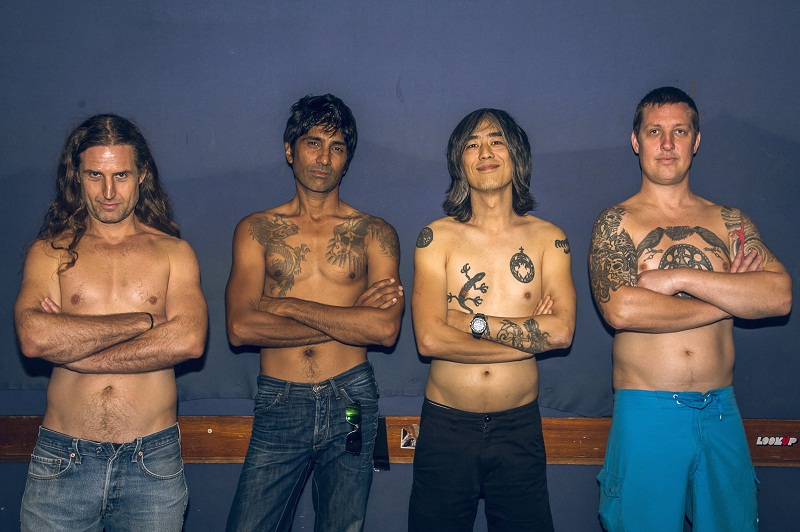 Blackie, Keish, Ray and Murray.
Original drummer Keish is again returning to the fold as guest vocalist, joining Ray (bass), Blackie (guitar) and current drummer Murray Ruse, but it's for a full set this time based on the band's oldest and best-loved songs.
"The Hard-Ons will, for the first and last time in their career, tour the breadth of Australia and play entire sets consisting of only songs from their first incarnation pre-initial break-up - the years spanning 1984-1993," the band says in a statement.
"The set will play will be made up entirely of songs most requested by their fans from an on-line fan opinion poll.
"This first formative decade had given the band a record 17 consecutive number-ones on the Australian alternative charts, as well as several notable hits abroad."
Of course we'll publish the link to the online poll when it goes live.
And if you want to send a card, the 21st of July is the day, three decades ago, that the three now middle-aged lads made their first public appearance.
To help celebrate this occasion the Hard-Ons will have in tow a brand-new 2-CD remaster/re-issue set of their major-label breakthrough album "Yummy" on Citadel, as well as a split 7" single with Australian jazz legends "The Necks."
But wait, there's more: "Never to rest on their laurels, the band will have available three more split 7" singles AND a BRAND NEW album with the current line-up just after the tour as well!!!"
HARD-ONS 30TH ANNIVERSARY TOUR
Thursday 29th May 2014 - Adelaide, Enigma Bar – SA
www.moshtix.com.au
Thursday 5th June 2014 - Newcastle, Small Ballroom – NSW
www.oztix.com.au
Friday 6th June 2014 - Penrith, Tattersalls Hotel - NSW
Saturday 7th June 2014 - Sydney, Manning Bar – NSW
www.manningbar.com
Thursday 12th June 2014 - Ballarat, Karova Lounge – VIC
www.oztix.com.au
Friday 13th June 2014 - Geelong, The Wool Exchange – VIC
www.oztix.com.au
Saturday 14th June 2014 - Melbourne, Corner Hotel – VIC
www.cornerhotel.com
Sunday 15th June 2014 - Castlemaine, Bridge Hotel – VIC
www.oztix.com.au
Thursday 19th June 2014 - Byron Bay, The Northern – NSW
www.thenorthern.oztix.com.au
Friday 20th June 2014 - Coolangatta, Coolangatta Hotel – QLD
www.coolyhotel.oztix.com.au
Saturday 21st June 2014 - Brisbane, Prince of Wales – QLD
www.oztix.com.au
Tickets on-sale Thursday 3rd April 2014, 10AM AEDT
Tags: hard-ons, blackie, tour, ray, ahn