Heads-up for Stooges obsessives: Easy Action to bring A Fire of Life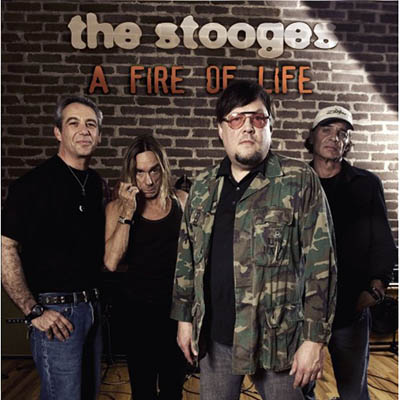 What may be the final word in posthumous Stooges recordings for the foreseeable future is looming on UK label Easy Action and it's a doozy.
Firstly, "A Fire of Life" is a double CD or LP collection compiling 2006 and 2003 live recording by the Pop-Asheton-Asheton-Watt line-up in Sydney and New Orleans respectively, coupled with high quality basement demos of tracks that would appear on "The Weirdness" and an in-store appearance.
It will be rounded off with 11 tracks from the legendary stripped back appearance at Newbury Comics in Cambridge MA in 2003 by Iggy and the Ashetons (with Scott on cardboard boxes!)
You can hear "Dirt" from the Sydney Big Day Out here and here is "Little Doll" from the basement. Pre-order here where you can read the full tracklist.
But that's not all.
Also in the pipeline, "Theatre of Cruelty" is a four CD box of definitive, speed-corrected recordings of Iggy and the Stooges at the Whisky A Go Go in Hollywood on September 15 and 16, October 17 and June 20, 1973 (the latter with shortlived keyboardist Bob Sheff.) Only the October 17 show has surfaced before - and that was in an Easy Action box.
Compiled by English Stooges fan Graham Ling from original cassette recordings, only 950 sets are being produced. Secure yours here.
Both collections are expected to starting rolling out in June and will proceed (or follow) a lavish, picture-heavy Stooges book compiled by Carlton Sandercock of Easy Action. And just because too much Stooges is never enough, the label will also unleash a double seven-inch pack of Iggy and the Stooges singles from the 1972 London sessions.
Tags: iggy, iggy pop, iggy & the stooges, iggy and the stooges, a fire of life, theatre of cruelty, graham ling