Here's the scoop on the Kuepp: Three "new" releases in May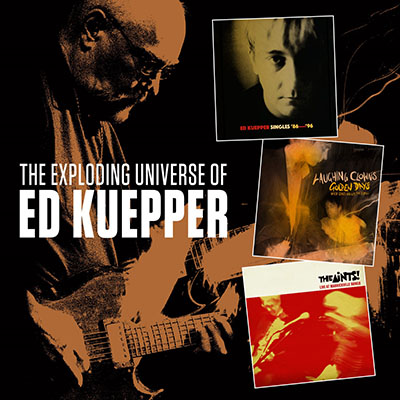 The forever prolific Ed Kuepper is celebrating 45 years as a recording artist with three retrospective releases spanning a large chunk of his post-Saints musical output.
"Ed Kuepper - Singles '86 ' '96" will compile every solo A side from that period on vinyl and CDs, the latter format featuring a bonus disc of B sides and obscurities. Surprisingly, it's Kuepper's first collection of 45s and CD singles.
"Golden Days // When Giants Walked the Earth" will be a vinyl collection of Kuepper's immediate post-Saints band, Laughing Clowns, who pushed the boundaries not just of conventional music but of the post-punk world. The classic "Eternally Yours" is included, as are the equally worthy "Everything That Flies", "Holy Joe" and more.
"The Aints! Live at The Bowlo" will be a vinyl version of the 2018 show by Kuepper's Saints-inspired The Aints! only previously available in digital format.
The Aints! debut album "The Church of Simultaneous Existence" was 12 Kuepper-penned tracks written in Brisbane, London and Sydney during the time frame 1969-1978, in and around the formation of The Saints.
The Marrickville Bowlo show is that same Aints! studio album recorded live at a sold out Sydney show two nights prior to the commencement of the album sessions proper, and iot is a scorcher.
Hard copy versions of all three releases will be available May 29 via www.edkuepper.com and select record stores. All releases will also be available via Bandcamp and select digital avenues.
Tags: ed kuepper, solo, still singles, laughing clowns, the church of simultaneous indifference, golden days, when giants walked the earth