Hugo Race announces Australian solo show tour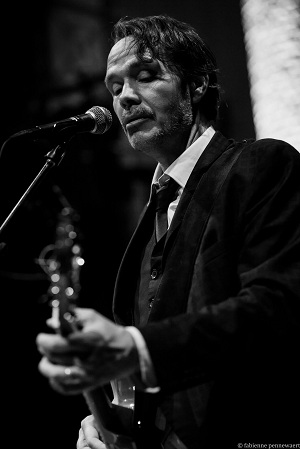 Multi-instrumentalist and hypnotic crooner, Hugo Race, returns home to Australia in June and July, fresh from an intense wave of European solo headline concerts in support of his latest EP "Ophans".
The five-city tour will include dates in Brisbane, Sydney, Melbourne, Adelaide and Tasmania.
Race delivers a unique take on experimental blues, folk and dark-edge, dragging inspiration from artists the likes of Neil Young, Velvet Underground and Wilco.
His EP is credcited to Hugo Race Fatalists, the collaboration between Race and Italian instrumental gurus, Sacri Cuori , and is said to create "ground-breaking, intense sonic soundscapes that merge folk, experimentalism, electronica and rock".
You can judge for yourself by watching the title track video which features Hugo Race and Alannah Hill in the dreamy landscapes of Tasmania.
Race was was a member of Nick Cave and the Bad Seeds and Melbourne band The Wreckery. He spent the 1990s and much of the '00s working as a musician and producer in Europe, returnign to live in Australia in 2011. His career includes more than a dozen albums with his Eropean-based band, Hugo Race and The True Spirit.
The upcoming tour will take Race's solo show, honed in the clubs of Europe, to select venues below.
Sun 29, June - Hugo Race & True Spirit @ Retreat Hotel w/ Mark Snarski
Fri 4 July Hugo Race & True Spirit perform L.A Woman @ Flying Saucer Club, Elsternwick w/ support from Shannon Bourne performing "Are You Experienced".
Sat 26 July Hugo Race @ Junk Bar, Brisbane (http://tickets.oztix.com.au/?Event=44072)
Sun 27 July Hugo Race @ Brisbane Powerhouse (afternoon)
Sat 2 August Hugo Race & True Spirit - Post Office Hotel, Melbourne
Sun 17 August Hugo Race @ The Wheatsheaf Hotel, Adel
Fri 5 September Hugo Race @ Camelot Lounge, Sydney (www.camelotlounge.com)
Sat 6 September Hugo Race @ Heritage Hotel, Bulli
Tags: bad seeds, hugo race, wreckery, nick cave, true spirit