James Griffin re-emerges for solo Sydney show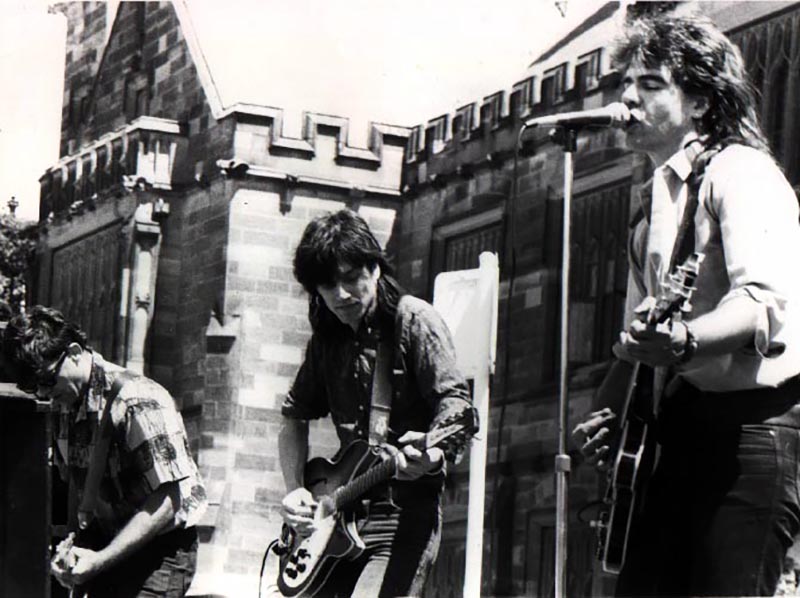 The Subterraneans performing at Sydney University in 1986. From left to right, Peter Coutanche (X, Kamikaze Kids), Marty Willson-Piper (The Church), and James Griffin.
Photo, Kim Sandeman.
James Griffin, onetime inner-Sydney underground music household name now living in Melbourne, is poised to play his first show in living memory in his old hometown of Sydney this month.
Griffin will play the Golden Barley Hotel in Enmore solo on Sunday, May 19, reprising his extensive back catalogue of work with The Subterraneans, The Agents and as in his own name.
A successful poet, songwriter and broadcaster, James Griffin began his performing and songwriting life in the early '70s. Originally an alt-folk/punk-folk solo acoustic artist, he built a successful live performance career around such songs as "20th Century Blues", "I Smoke Money", "I Don't Think I Drink Enough", "I thought It Was You On the Boulevard" and "Australia's Just A Suburb of the USA".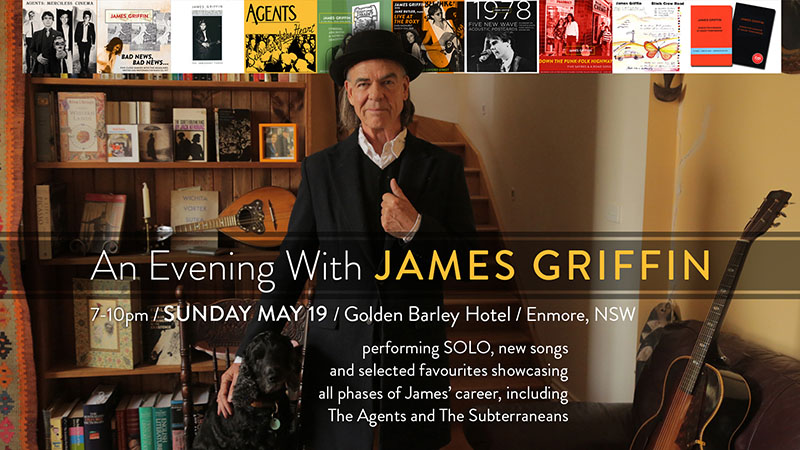 He released his first solo EP in 1978, backed by members of the Sydney cult band, Wasted Daze, and then went on to form post-punk/new wave band, The Agents (With Kydric Shaw) and later, James Griffin and the Subterraneans.
The Subterranneans featured a rotating line-up of many acclaimed Sydney based musicians including members of The Church, Icehouse, Do Re Mi, The Eurogliders, The Coloured Girls, X, and The Kamikaze Kids.
The Agents had alternative hits with "Suburbs Of The Heart", "Merciless Cinema" and the 12" EP, "No Adjustment To The Face", while
the Subterraneans had success with their debut album, "The ImmigrantTango", particularly with the songs,"The Angel Run" and "Blood Of The Poet".
Since the Subterraneans, James has released four solo albums, the most recent being, "Songs For A Season At Ghost Town Bridge", and co-written (with Joe Camilleri) the Black Sorrows' hit) "Snake Skin Shoes" and the Golden Guitar winning Lee Kernaghan hit, "Changi Banjo".
James is currently writing and recording a new album (produced and recorded by James Black) for release later in 2019. At the Golden Barley, James will perform a selection of new songs plus favourites from all the stages of his career so far. He'll also have copies of his long out-of-print output available for sales. The gig starts at 7pm.
Tags: golden barley, james griffin, subterranneans, the agents, angel run