Details

By

The Barman

The Barman
Japanese feedback master joins Penny Ikinger's band for one-off Sydney show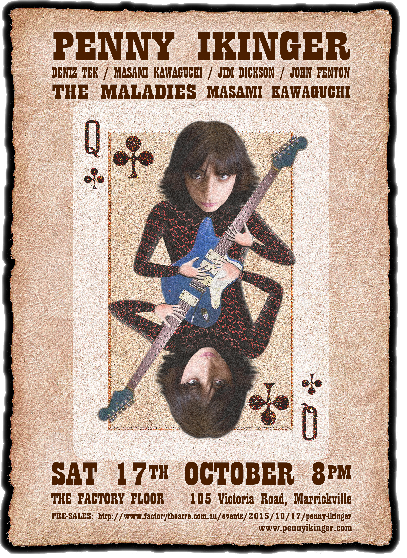 Feedback songstress Penny Ikinger is pulling together an all-star band for a special one-off show in Sydney on October 17 with special guest Masami Kawaguchi from Japan.
Billed as a "psychedelic machine gun guitarist" by Wire magazine, Tokyo-based Kawaguchi will open the show at Marrickville's The Factory Floor with a solo spot before joining Penny's headlining line-up comprising Deniz Tek and Jim Dickson (Radio Birdman) and drummer John Fenton (Crow.)
Kawaguchi has played with Japanese bands Miminokoto, LSD March and Broomdusters and is said to be a master of Blue Cheer-meets-Nuggets fuzz zone. He played guitar on Penny's new album, recorded in Tokyo. He is touring Australia to promote the release of his own solo album: "The Mad Guitar Sings" on Black Petal Records.
Main support will be The Maladies whose notoriously wild live shows swing erratically from tender croon to demented howl. Expect to see something intense and abrasive!
This is a one-off, never-to-be-repeated event and tickets are on here.