Details

By

The Barman

The Barman
Japanese voodoo rockers Bailtones head to Oz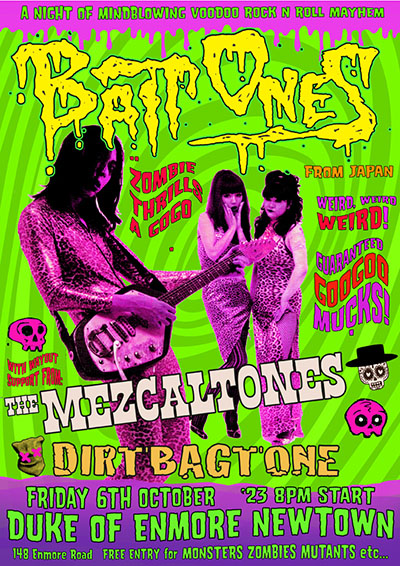 Japan's premier exponents of voodoo rock, Baitones, are heading to Australia in October, playing shows in Melbourne, Brisbane and Sydney.
With two decades of rocking in their home country under their belts, Bailtones will be making their first foray overseas.
Likened to the Birthday Party crossed with Gun Club and the Cramps, Baitones recall all of the above but still manage to remain uniquely creepy and glitteringly sexy, as well.
Ugly Things magazine says:
"If you're into Nuggets, Pebbles, The Sonics, The Cramps' 'Gravest Hits' or '60s garage punk in general then you really should pick up this record, a Japanese band that takes this style and make it their own. This music has never sounded that hot before."
Our spy who has caught them in the flesh in Japan adds:
"If Las Vegas was an outfit, these guys would be wearing it. Holographic gold lame, leopard skin, fishnets, abundant bare flesh trimmed with bones and fur adorn Baitones, like some mutant Mae West cannibal from the year 3000.
"Baitones create a fashion all of their own, part burlesque cutie, part jungle beast and part sci fi villain."
Judge for yourself at these shows:
Bailtones (JPN) Australian Tour
OCT
4 – Old Bar, Fitzroy, VIC
5 – Brightside, Fortitude Valley, QLD
6 – The Duke, Enmore, NSW
7 – Zombie Cannibal Stay Gold, Sydney Road, Melbourne, VIC