Leadfinger back in the saddle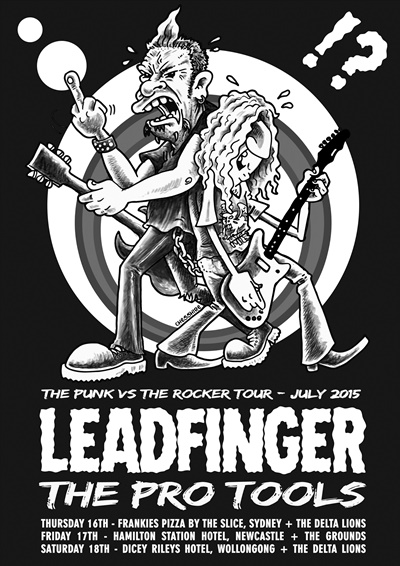 They're one of Australia's best bands, Leadfinger, have been working hard on a new album at Linear Studios in Sydney. The new long player's not long from finished but now it's time to test the water with some of the new tunes and get some live rock action (otherwise known as beer and fun!!)
Along for the ride are their mates from Adelaide, The Pro Tools, whose ranks feature ex-members of The Exploding White Mice and the Bloodsucking Freaks.

The mini-tour's duybbed The Punk and The Rocker. Says "the rocker" Leadfinger leader Stew Cunningham: "These guys play an explosive mix of punk and hard-edged rock'n'roll with ("the punk") Pete 'The Stud' Howlett's blistering guitar attack up front and loud." That's some recommendation.
Special guests on Thursday and Saturday night are some more Leadfinger buddies from Newcastle, The Delta Lions. Friday night's guest at the Hammo Station Hotel in Newcastle are The Grounds.
Leadfinger + The Pro Tools
JULY
16 - Frankie's Pizza by the Slice, Sydney + The Delta Lions
17 - Hamilton Station Hotel, Newycastle + The Grounds
18 - Dicey Riley's Hotel, Wollongong + The Delta Lions
Tags: leadfinger, live, pro-tools, exlopding white mice, delta lions