Leadfinger hitting the road for new record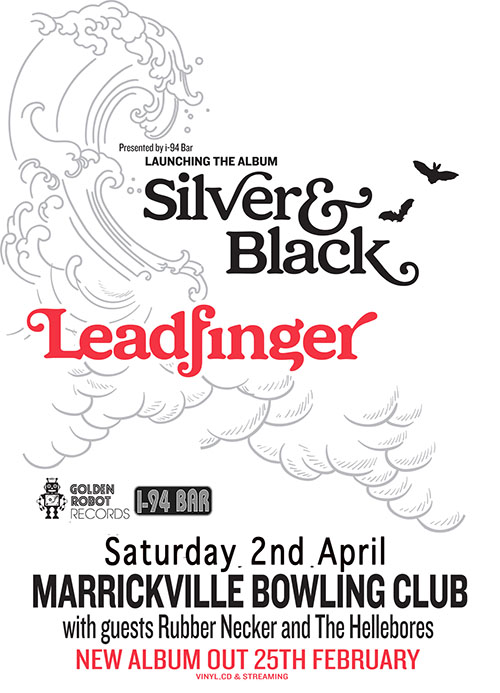 Australian rock band Leadfinger and Golden Robot Records are pleased to announce the release of "Silver & Black", the long-awaited new album and their first since 2016's "Friday Night Heroes".
The album will be launched at Marrickville Bowling Club on Saturday, April 2 with support from Rubber Necker and Hellebores and tickets are on sale here. Tour dates appear below.
The story of "Silver & Black" began not long after the career high of the first tour of Europe in October 2017 when the band's singer/songwriter, Stewart Cunningham fell ill and was shockingly diagnosed with lung cancer.
Following almost two years of treatment that included losing one of his lungs and a long, painful recovery the band began to try and regroup, not even knowing whether Cunningham would be able to play and sing again.
Somewhat miraculously things slowly fell in to place in the isolation (and therapy) of the rehearsal room and then in and around Covid and lockdowns the band managed to write and record the new album at Garth Porter's Rancom Street Studio in Sydney with Brent Clark producing.
Finally, with the album in the can and after an almost four-year absence from the stage Leadfinger returned to play live again in June 2021 with new songs and a renewed self belief in their music and each other.
Rubber Necker has emerged from the fog of COVID as somewhat of a "buzz band" with their wiry, post-punk sound grabbing attention. Hellebores are Marrickville locals whose members grew up in Lawnsmell and are riding on the back of a debut album, "Hellemenopee".
Leadfinger
"Silver & Black" Launch Gigs
MAR
5 - Dicey Rileys, Wollongong, NSW
12 - Smiths Bookshop, Canberra, NSW
18 - Link and Pin, Woy Woy, NSW
APR
2 - The Bowlo, Marrickville, NSW
MAY
6 - Corner Hotel, Richmond, VIC
7 - Tote Hotel, Collingwood, VIC
Tags: leadfinger, stewart cunningham, golden robot, silver and black, silver & black, rubber necker