Mick Medew returns to Sydney for first show in five years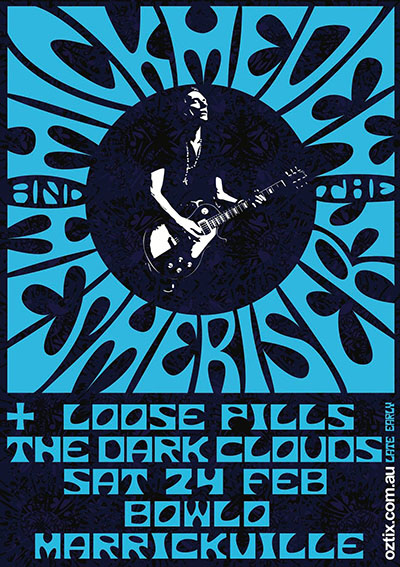 Long regarded as one of Queensland rock and roll's most venerable singer-songwriters, Mick Medew is returning to a Sydney stage after a five-year absence with his band The Mesmerisers.
With one album ("The Mesmerisers") under their belt and another underway, Mick Medew and The Mesmerisers will play Marrickville Bowling Club on Saturday, February 24, with support from Loose Pills and The Dark Clouds. Tickets are on sale here.
The Sydney show has been added to follow a support to The Sunnyboys in Thirroul on February 23.

Vocalist-guitarist Medew is co-founder of the Screaming Tribesmen and more recently leader of Mick Medew and The Rumours, and he's been making a mark on Brisbane (and Australian) music for more than 30 years.
Originally a member of seminal inner-city Brisbane band The 31st, whose ranks included future members of the Hoodoo Gurus, the Hitmen and Died Pretty, Medew went on to front the Screaming Tribesmen, a band schooled in tough guitar rock overlaid with alternately hooky and plaintive melodies.
The Tribesmen outgrew their home town and moved to Sydney in the 1980s, becoming Australian independent music chart toppers with the classic single "Igloo".
The band lasted 16 years, signed to a US label, released three albums and toured North America and Europe (twice) before Mick moved home to Queensland and put them on hiatus in 1993. Reunions for tours followed in 2011 (Australia) and 2012 (Europe).
This will be a different lineup of The Mesmerisers since their last Sydney appearance. Brian Mann (Ed Kuepper, Wildcats, The Girlies, The Screaming Tribesmen, Lime Spiders, Figtree Renaissance) remains on guitar. Lois Andrews is on bass and Michael Charles (Shy Impostors, Lipstick Killers, Screaming Tribesmen) is on drums.
MIck Medew and The Mesmerisers are a strong draw in their home state and have played choice supports to the likes of The Damned, the Sunnyboys, Radio Birdman, Died Pretty and The Aints.
They'll play the middle bracket on the three-band Marrickville Bowlo bill.
Opening band Loose Pills are one of Sydney's most accomplished power pop outfits, drawing members from The Barbarellas, The Scruffs, the New Christs and the Lime Spiders.
The Dark Clouds (who will close the night) are from Wollongong and are about to release their second album of Dictators-Radio Birdman influenced hard rock.
Tags: Medew, mesmerisers, Mick, showdown, sydney, screaming tribesmen, marrickville bowling club