New Bomb Turks tribute hits the shelves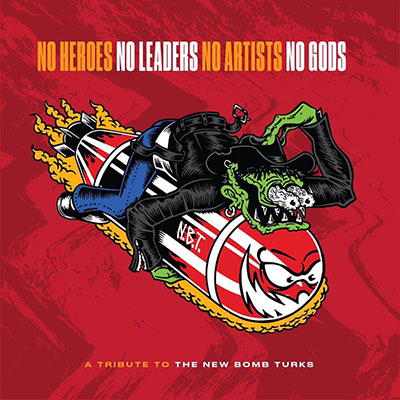 The idea took root a year ago. Ardo from Estonian band Dead Furies had an idea to compile a tribute album for New Bomb Turks, perhaps his favourite band and oen of the stars of the US 1990s punk rock scene. He hit up some up and coming rock bands, and some mainstays, to see if they would be interested.
The response was overwhelmingly positive.
The tracks started coming in from the likes of the Hellacopters and DEMONS from Sweden, the UK's Hip Priests and the Killer Hearts (USA). In the end he got 14 different incredible artists from Europe and North America.

Newish label on the block , Dragstrip Riot Records have collaborated with seasoned labels Ghost Highway Recordings from Spain and Spaghetty Town Records from US to bring you "No Heroes No Leaders No Artists No Gods". Every label released a different limited coloured vinyl and also the regular black version.
It's strictly vinyl only and the label names above link to websites.
Tracklisting:
Professional Againsters "Bolan's Crash" (Sweden)
Deadheads "Quarter To Four" (Sweden)
"DEMONS" "Pretty Lightening" (Sweden)
The Boatsmen "Wine and Depression" (Sweden)
Acid's Trip "Snap Decision" (Sweden)
The Chuck Norris Experiment "End Of The Great Credibility Race" (Sweden)
The Hip Priests "Jukebox Lean" (England)
Dead Furies "Your Beaten Heart" (Estonia)
Scumbag Millionaire "Tryin' To Get By" (Sweden)
The Drippers "Hammerless Nail" (Sweden)
Jonesy "Jeers Of A Clown" (Canada)
Killer Hearts "Spanish Fly By Night" (United States)
Randy Savages "We Give A Rat's Ass" (England)
The Hellacopters "Veronica Lake" (Sweden)
Tags: hellacopters, new bomb turks, ghost highway recordings, spaghetty town records, demons, dead furies