New collection to lift lid on music of the Sharpies sub-culture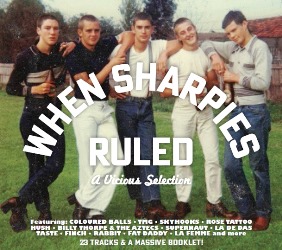 Following in the tradition of acclaimed compilations like "Boogie" and "(When The Sun Sets Over) Carlton", Festival Records and WMA are releasing a new collection of music from Australia's sharpie subculture of the '70s.
"When Sharpies Ruled – A Vicious Collection" is a power-packed 23-track CD packaged with a slipcase, 28-page jewel case booklet with liner notes and a separate 60 page booklet of Sharpie snaps. It's billed as "the ultimate aural and visual statement on the infamous Australian youth movement and gangs of the '70s" and who are we to disagree?

Sharpies were a uniquely Australian, working class phenomenon from the late '60s to the late '70s. Notorious for causing trouble, they're remembered for their startling style sense - tight Italian cardigans and razor cut hair were favoured – and outrageous dancing.


Akin in some ways to the early skinhead movement in the UK, Sharpies were not politically or racially motivated and adhered to a strict code. Whilst their culture was violent, the altercations were usually restricted to inter-gang rivalries, which notably flared up when they crossed into each other's territories on public transport.
"When Sharpies Ruled" presents the best of their favourite local bands, including the Coloured Balls and Rose Tattoo (the two bands most synonymous with the Sharpies movement) and well as power-boogie masters Billy Thorpe &The Aztecs, tough glam thumpers Skyhooks, Hush and Rabbit (the band fronted by AC/DC's original pre-Bon Scott vocalist Dave Evans) and working class punks La Femme.
The compilation includes classic hits of the era like Skyhooks' "Horror Movie" ,Hush's "Bony Maronie", Ted Mulry Gang's "Jump In My Car" and Supernaut's "I Like It Both Ways", alongside killer minor hits like Taste's "Tickle Your Fancy", the Coloured Balls' "Flash" and "Love Me Babe" and Stevie Wright's "Hard Road".
There are firm fan favourites from Kevin Borich's group The La De Das and Angry Anderson and Phil Rudd's early group Buster Brown, and a number of hard and fast rarities by the likes of Finch, Bullet, Fat Daddy and Fatty Lumpkin.

If nearly 80 minutes of pounding '70s Aussie rock'n'roll isn't enough, the super deluxe 'When Sharpies Ruled' package also includes in-depth liner notes by both album compiler/ noted punk and proto-punk expert Glenn Terry and Skyhooks main man Greg Macainsh as well as over 100 eye-catching images of artists and the Sharpies themselves.

"When Sharpies Ruled - A Vicious Selection" is released on August 7 and here's the tracklisting:
1. Coloured Balls : Time Shapes
2. Finch : Out Of Control
3. La De Das : The Place (single edit.)
4. Coloured Balls : Flash
5. Billy Thorpe & The Aztecs : Let's Have A Party
(Recorded live at Sunbury 1974)
6. Stevie Wright : Hard Road
7. Buster Brown : Roll Over Beethoven
8. Skyhooks : Horror Movie
9. Coloured Balls : Love You Babe
10. Hush : Riff In My Head
11. Fat Daddy : Roll Daddy Roll
12. Ted Mulry Gang : Jump In My Car
13. Bullet : Rock My Lady
14. Hush : Bony Moronie
15. Fatty Lumpkin : Movin'
16. Kevin Borich Express : I'm Goin' Somewhere
17. Ted Mulry Gang : Crazy
18. Finch : Hey Spunky
19. Taste : Tickle Your Fancy
20. Rabbit : Wildfire
21. Supernaut : I Like It Both Ways
22. Rose Tattoo : Remedy
23. La Femme : Chelsea Kids (single version)
Tags: kevin, lobby, skyhooks, sharpies, rose tattoo, lobby loyde, colored balls, borich