New Tek album coming down the turnpike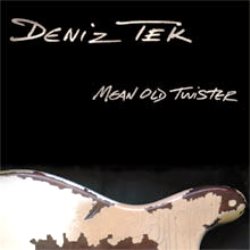 Radio Birdman boss Deniz Tek's latest solo album, "Mean Old Twister", will be released by Citadel Records on September 30.
Stand-out tracks are said to include the straight-ahead, high-powered guitar rockers "Burned Black" and "Prison Mouse", "Comanche", a shimmering surf instrumental, the Stonesy ballad "Table For One" and "Free At Last", an all-acoustic diversion from the electric guitar attack.
"Mean Old Twister" was recorded with the same band which appeared on the last Tek album "Detroit". Drummer Ric Parnell is best known for his work in Spinal Tap and Atomic Rooster. Bassist Bob Brown has been working with Deniz since the 1992 Australian tour supporting Deniz's first solo album "Take It To The Vertical".

Lending a keen ear to the process, Radio Birdman bandmate and famed producer Rob Younger stepped in to supervise the mix.
Track Listing:
Burned Black
Corner Conversation
Somewhere
Crossroads
Table For One
Comanche
Prison Mouse
New York Confidential
Cranbrook
They Can't Take That Away
Free At Last
Death By Text
Tags: radio birdman, citadel records, deniz tek, mean old twister