Details

By

The Barman

The Barman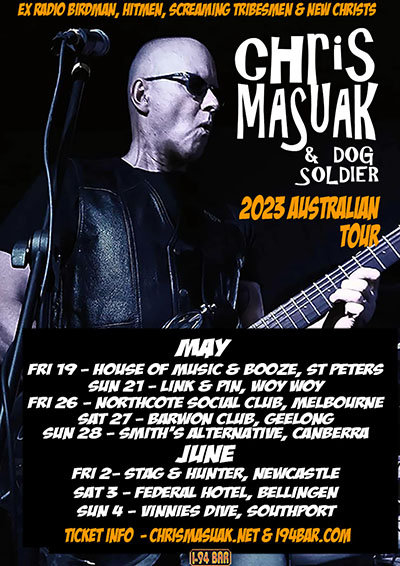 Six years after his last visit to Australia, former Radio Birdman guitarist Chris "Klondike" Masuak is returning with his hand-picked local band, Dog Soldier, for a select run of East Coast shows.
Masuak and Dog Soldier will play a three week tour with shows in New South Wales, Victoria, Queensland and the ACT.
Masuak's musical history reads like a muscle car ride through the mean streets of Australia's rock and roll underground.
The Canadian-born prodigy achieved notoriety as teenage guitarist for Australia's legendary Radio Birdman, and then waged a War Against The Jive with the country's hardest working rock and roll band, The Hitmen.
Next came a stint with the original live version of the New Christs, followed by international prominence with the chart-busting Screaming Tribesmen.
A member of the ARIA Rock and Roll Hall of Fame, Masuak has an impressive back catalogue of rock, pop and blues releases under his own name and fronting the Viveiro Wave Riders. He is now based in Galicia in northern Spain.
Dog Soldier comprises bassist Tony Bambach (Aberration, Green Spiders, ex-Lime Spiders) and drummer Stu Wilson (Aberration, Leadfinger, ex-The Rivers, ex-New Christs, ex-Lime Spiders).
Their tour will re-trace Klondike's storied career, drawing on material from his key bands - with a few surprises thrown in.
I-94 Bar Records & Promotions presents
Chris Masuak & Dog Soldier 2023 Australian Tour
MAY
19 - House of Music & Booze, St Peters, NSW + Starcrazy + The Dark Clouds + Pocketwatch Tickets
21 - Link and Pin, Woy Woy + The Silver Dragons (1.30pm) Tickets
26 - Northcote Social Club + River of Snakes + Electric Purrs Tickets
27 - Barwon Club Hotel, Geelong + Baby 8 + Sacramento Sweaters Tickets
28 - Smiths Alternative, Canberra + Il Bruto (7pm) Tickets
JUN
2 -Stag and Hunter, Newcastle + Joeys Coop + East Coast Low Tickets
3 - Federal Hotel, Bellingen + Nikki Websters
4 - Vinnies, Gold Coast + The Square Tugs + Mick Medew & Ursula Tickets
Details

By

The Barman

The Barman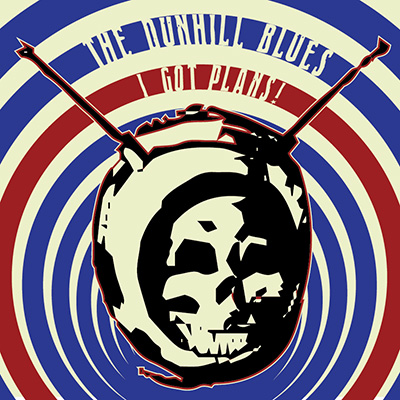 Sydney's garage trash favourites The Dunhill Blues have got plans. They involve a new vinyl EP and what's shaping as a "no sleep till we're sober" French and Spanish tour.

The band heads off next week and their new EP "I Got Plans" is available for pre-order here through local labels Outta Space and Evil Tone.
"It's a fairly wild recording; it should have been an album but we lost our nerve. Mkey Young pulled it together in the mastering," says The Dunnies' Adam Brozowski.
"We are really happy with it and we're gonna re-record the other 20 or so songs when we get back."
The band is picking up the EPs while in Europe so if you want to hear it now, you'll have to stream it.
For tour dates and the film clip, click MORE.
Read more: Dunnies take their best laid plans to France and Spain
Details

By

The Barman

The Barman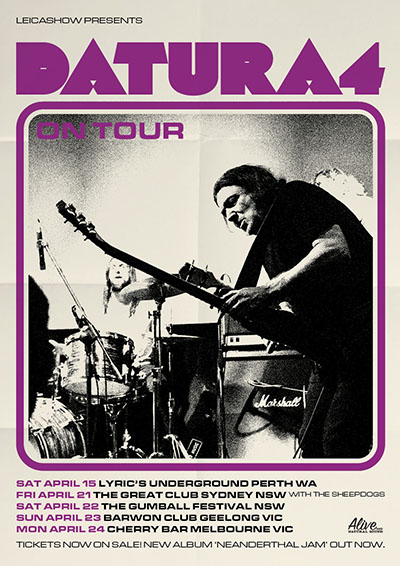 Internationally acclaimed West Australian boogie masters Datura4 are set to tour the east coast of Australia for the first time in six years on the success of their fifth album, "Neanderthal Jam".
Datura4 is fronted by Dom Mariani of legendary Oz garage rockers The Stems, With plans to tour Europe in the latter part of 2023, the April tour will be their first time back since 2017.
The band will play four shows across New South Wales and Victoria, including an appearance at the prestigious Gum Ball Festival in the Hunter Valley and a Sydney show with returning platinum-selling Canadian act The Sheepdogs.

Datura4 finds Dom Mariani rediscovering the heavy and progressive blues sounds he loved as a teenager - bands like Led Zeppelin, Ten Years After andt he Groundhogs, Aus bands like Carson, Masters Apprentices, Chain, Billy Thorpe & The Aztecs and Perth locals Bakery.
Dom has even added an authentic '70s blues-rocker to his band – keyboard player Bob Patient is a one-time member of heavy prog rockers Fatty Lumpkin, a later day member of Matt Taylor's Chain and more recently a sideman of Perth's internationally revered slide guitarist Dave Hole.
APRIL
Friday 21- Great Club Sydney (w/ The Sheepdogs) - Tix
Saturday 22 -, Gumball Festival - Tix
Sunday 23- Barwon Club Geelong - Tix
Monday 24- Cherry Melbourne (special guests - The Gas Babies) - Tix