Details

By

The Barman

The Barman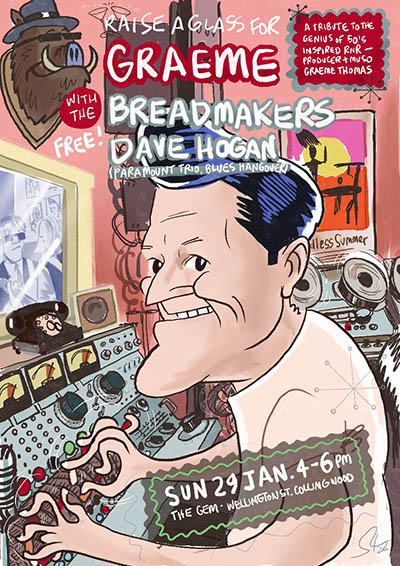 It was with great sadness that Melbourne cult retro band The Breadmakers learned of the passing of their old pal, Graeme Thomas, of the Preston Records studio and label, in November last year.
Thomas was hugely influential to just about any roots, rockabilly or rock 'n' roll musician in Melbourne in the 1980s and 90s – and it was no different for the young Breadmakers. They'd heard some of the amazing recordings that Graeme had made in his home-built studio that sounded exactly like they had come out of the '50 and '60s and asked him to record them too.
Graeme was a musical perfectionist, and taught the band so much about getting the sounds they liked in the studio. He could make his studio sound like Sun Studios in Memphis, or just about any other vintage studio by moving microphones, changing amplifiers and rearranging a few baffles.
Graeme once offered to truck in enough soil to completely cover the studio floor so that he could get the sound of the Fortune Records Studio from Detroit Michigan, which famously had a dirt floor.
Details

By

The Barman

The Barman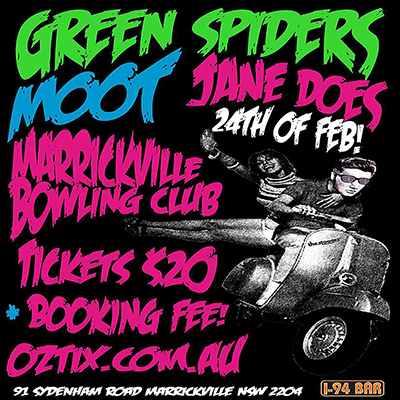 It's a bill to have fans of lysergic acid punk reaching into the cupboard for their paisley shirts and Cuban heeled boots, when the Green Spiders pair with old school punks Moot and garage throwbacks The Jane Does at Marrickville Bowling Club on Friday, February 24.

The Green Spiders come from the DNA of the Lime Spiders, Adolphus and The Most – all staples of the Strawberry Hills-Sydney Trade Union Club circuit in Sydney in the early '80s. They play the songs of the Lime Spiders that Green Spiders members penned.
Lime Spiders members Ged Corben (guitar), Tony Bambach (bass) and Tom Corben (drums) are joined by Ripley Hood (Mushroom Planet) on vocals to deliver a potent parade of hard rock and '60s punk gems.
Read more: Things will get fuzzy with return of the Green Spiders
Details

By

The Barman

The Barman


Asteroid B-612 with Scotty Nash, second from the right.
Founding Asteroid B-612 bass player Scott Nash has passed away after a protracted illness.
His partner Sarah posted the following on Facebook earlier today:
With no fuss and a little bit of pain relief, the one-and-only Scotty Nash took his final bow last night. He loved and was loved by so many and leaves a hole that no-one will ever fill. Evie, Sam and I could not be more proud of who he was and how he lived his life, particularly these past few very difficult months. Rest in peace now Scotty Nash . We will love you forever.
The Asteroids released four studio albums during their original lifespan – "Asteroid B-612" (1993), "Forced into a Corner" (1994), "Not Meant for this World" (October 1996) and "Readin' Between the Lines" (2000), before disbanding in 2004.
One of the best bands of the '90s (or any other decade) to emerge from Sydney's Northern Beaches, they recently partially reformed for shows in Spain but Nash was unable to make it. More recently, Scott played with Newcastle band Rangers of The Universe.