Penny Ikinger returns to Japan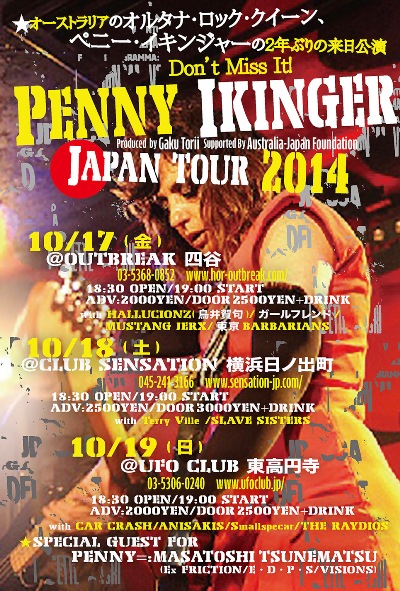 Australian sonic chanteuse Penny Ikinger is taking her unique sound to Japan again - this time to record as well as play live.
Penny has teamed up with Radio Birdman's Deniz Tek to write new material on the first stage of her next musical offering. Stage two then takes Penny back to Japan to team up with her Japanese musical crew to record the songs.
"I've collaborated before but this time I've taken it to another level to really challenge my approach to writing and to bring a fresh new sound to the music being created," Penny said.
"Deniz is a fabulously talented musician and opening up the music for a true collaboration was an experience that brought new energy and ideas to the whole process."
But that's not the end of the story. Penny will now take these songs to Japan where she will further collaborate with her Japanese musical partners from recent tours.
"Last time I went to Japan in 2012 I performed with some amazing psychedelic rock musicians – Masami Kawaguchi (guitar), Louis Inage (bass) and Keiichi Sakai (drums)," Penny said.
"This time around we'll play a few gigs, but the main focus will be recording this new material and having the guys bring their unique flavour to the songs.
"I'm really excited about the possibilities of where we might go with this – the crew in Japan are extremely talented musicians and although their sound aligns with my style, they are quite different in their approach."
Penny also continues her partnership with the Australia-Japan Foundation, which is sponsoring this project. They also sponsored her previous tour to Japan in 2012.
"The Australia-Japan Foundation has been wonderful in their support and I think this next album will take our unique Australian-Japanese music relationship, in a completely new direction." Penny said.
"This project is both exciting and challenging. I've always tried to extend myself and explore new styles and songwriting approaches so, for me, the evolution of a new sound is really something special! "
Penny has been performing music since the halcyon days of the Oz music scene in the mid-1980s. She has recorded and toured with an eclectic mix of artists across Australia, Europe, America and Japan. Penny Ikinger's new album is intended for release in 2015. Watch this space! JAPAN 2014 TOUR
Fri 17th Oct - Outbreak Club, Tokyo. Address: Daini Tarou bldg. B1 2-10 Yotsuya, Shinjuku-ku
Sat 18th Oct - Club Sensation, Yokohama. Address: 3-80 Miyagawa-cho Naka-ku YokohamaSun
19th Oct- UFO Club, Tokyo. Address: Harmony Hills B1F 1-11-6 Koenji-Minami, Suginami-ku
Tags: live, penny ikinger