Powder Monkeys classic set for re-issue on vinyl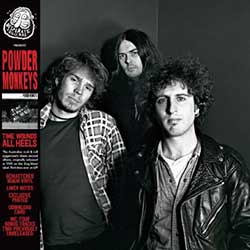 Finally seeing the light of day again and for the first time on vinyl, the classic 1995 Powder Monkeys album "Time Wounds All Heels" is about to drop.
Originally released on the Dog Meat label and comprising the power-trio line-up of Tim Hemensley, TJ Ray and John Nolan, the band at this point were an absolutely unstoppable force, a powerhouse comparable to the finest moments from the MC5, Motorhead and Black Flag.
Featuring 10 original tracks from the band, this is often considered the group's finest recorded studio moment - and one which has been out of print in any form since the 1990s.
The special edition on Desperate Records comes remastered for vinyl by Mikey Young and is pressed on 180-gram wax. The sleeve is on thick, reverse-board stock with a descriptive obi strip, download card, exclusive photos and liner notes and a 24" x 24" poster.
It also comes in an all-new sleeve, the front cover being a stunning, previously unpublished shot of the band taken by renowned rock photographer, Liz Reed.
It's to be released on October the 31st and be distributed by Rocket Distribution.
The download card also features four bonus tracks (including Bored! and Motorhead covers), two of them previously unreleased, one of which is a fantastic original from drummer TJ Ray.
The reissue of is a major deal for all Aussie rock & roll afficianados. There are only 700 being pressed, 250 of which will be on red vinyl.
Tags: re-issue, powder monkeys, john nolan, tim hemensley, tj ray, time wounds all heels, vinyl