Psychotic Turnbuckles end five-year Pismo Beach exile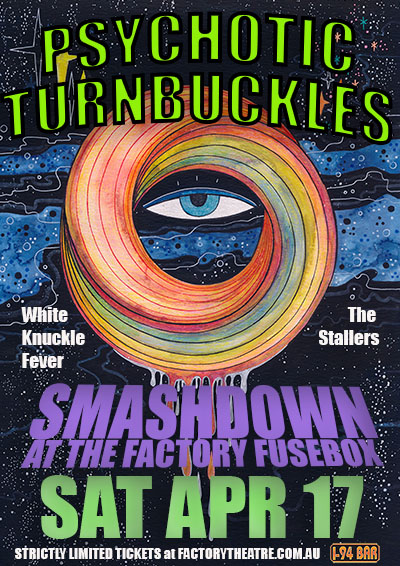 Five years since they played their last full set to a roomful of adoring fans in Sydney, Rock and Roll Wrestling World Champions the Psychotic Turnbuckles are back to destroy Dull City. The Turnbuckles will play Fusebox at the Factory Theatre in Sydney on Saturday, April 17.
Tickets will be strictly limited and go on sale here at 9am on Wednesday. Supports are White Knuckle Fever and southern Sydney punk rock jukebox The Stallers. The show has been timed so punters from the earliest of two Died Pretty shows in the adjoining Factory Theatre can attend.
Living in idle luxury in their hometown of Pismo Beach since their last Australian gig with San Francisco legends The Mummies in March 2016, the Kings of the Ring are itching to smackdown all comers. Guitarist El Siccodelico has hung up his Mexican wrestling mask during the lay-off and has been replaced by Italian grappling royalty, Count Forza.
The Turnbuckles will be fast-tracked through Australian Government quarantine protocols to play this one-off show and there's no telling if and when they'll re-appear again.
White Knuckle Fever is the runaway psychobilly duo that's been tearing up Aussie stages off the back of a new single, "RSA Blues". The Stallers are a veritable garage punk jukebox and will kick off the night with a set chockful of smash 'em up classics.
The show is presented by I-94 Bar.
Tags: died pretty, psychotic turnbuckles, factory theatre, white knuckle fever, the stallers