R.I.P. Billy Miller of Norton Records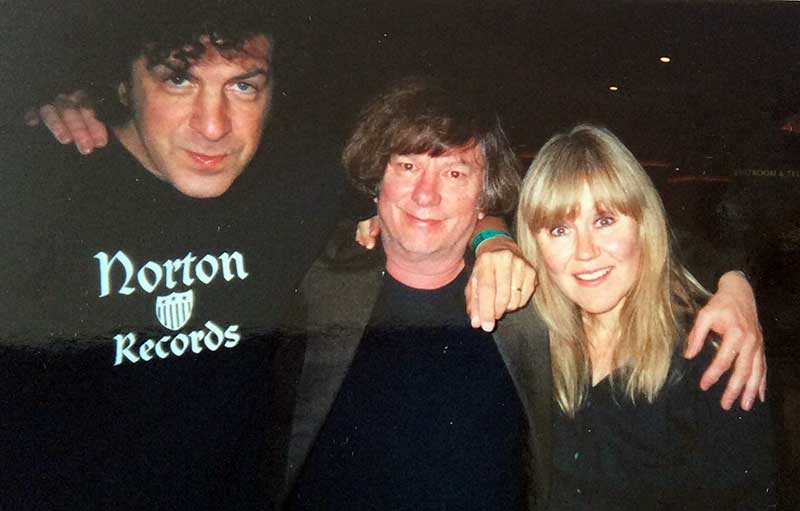 Billy Miller (left) with ex Flamin Groovies frontman Roy Loney and Miriam Linna.
Co-owner of legendary label Norton Records and former member of the A-Bones, Billy Miller, has passed away after battling long-term health complications.
Miller founded the label with his future wife Miriam Lina (a former Cramps drummer) in 1986, originally to issue the music of Hasil Adkins.
Hundreds of releases followed for bands as diverse as The Wailers, The Sonics, The Dictators, Reigning Sound, Esquerita, Ramones, the Pretty Things, the Flamin' Groovies, the Alarm Clocks, Question Mark and the Mysterians, Dale Hawkins, Andre Williams, Jack Starr, the Flat Duo Jets, the Untamed Youth, the Phantom Surfers, the Hentchmen, Wade Curtiss, Jackie & the Cedrics, the Church Keys, and Iggy Pop's alma mater, The Iguanas.
Miller had lost a leg to complications from diabetes a year ago. He had been back in hospital in recent months.
Miriam announced his passing on Facebook earlier today with a simple message: "Friends, so you don't go hearing it unawares, my darling Billy has passed on."
Ex-Dictators member Andy Shernoff posted: "Farewell to Billy Miller my friend, brother, musical collaborator and A&R man extraordinaire. The man with the biggest rock and roll heart this world has ever seen! Keep the party going ... Norton records forever!!!"
Ex Flamin' Groovies frontman Roy Loney was in New York City to pay Billy a visit when the new broke. He said: "I am at a complete loss for words to describe the emptiness I feel down to my soul at the passing of my dear friend and champion, Billy Miller... A giant has fallen, my friends. A Wonderful Giant. All of my thoughts and heart are with Miriam. The Light Of His Life. I'll write more later. Right now, I'm too busy with crying and feeling very lonely. Billy Forever!"
Norton Records was all but wiped off the map by Hurricane Sandy in 2012 when flooding inundated its Brooklyn warehouse and destroyed most of its stock. Supporters raised funds to get the label back up on its feet.
By January this year, most of the catalogue was back in print and Norton had re-established with a new bricks-and-mortar shopfront in Brooklyn's Prospect Heights.
Tags: billy miller, miriam linna, norton records