Rodeo Rock: Johnnys tussle with Spurs For Jesus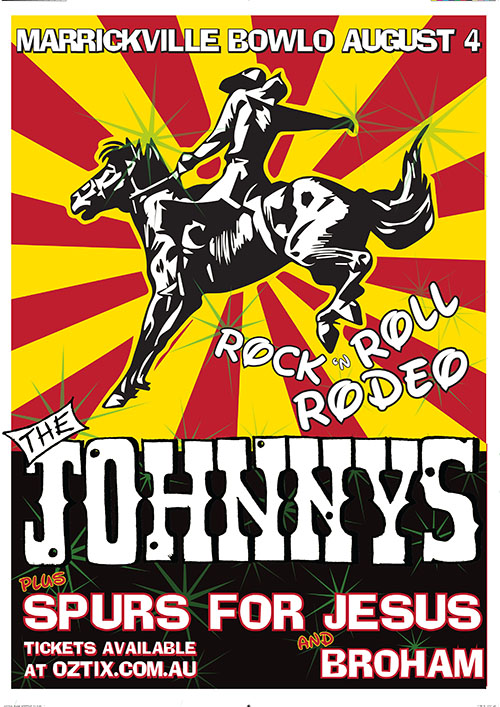 It's the match made in Cowpunk Heaven - those hard drinkin', Slip Slap Fishin' men, The Johnnys, going Stetson-to-Stetson with unruly, Spurs For Jesus, in an all-hitches-no-britches rock and roll rodeo deep in the heart of Sydney's Inner Western Delta.
Saturday, August 4 pitches this mighty pair at each other in the main paddock of Marrickville Bowling Club, presented by the I-94 Bar.,
Opening the gate will be Broham, the new country band for globe-jaunting Vanilla Chainsaw frontman Simon Chainsaw and assorted reprobates, making their world debut.
The Johnnys wrote the book on Cowpunk back in the '80s; Spurs re-worded parts of it a decade later and Broham intend on tearing some pages out.
Who will come out on top after the hay-bales disintegrate and the rodeo clowns vacate the ring is anyone's guess.
Wear your best Western wear (double denim is cool) and expect a few surprises along the way, as well as prizes of a Johnnys pack for the Best Dressed Cowgirl and Cowboy.
The last Johnnys show at the Bowlo sold out so get in early for this one and pre-book. You won't see 'em again in Sydney any time soon and the girls and guys from Spurs don't play that often, either.
Book by phone on 1300 762 545 or online here.
Tags: live, spurs for jesus, simon chainsaw, the johnnys, marrickville bowling club, broham, vanilla chainsaws