Details

By

The Barman

The Barman
Ron Keeley offers original Birdman drumhead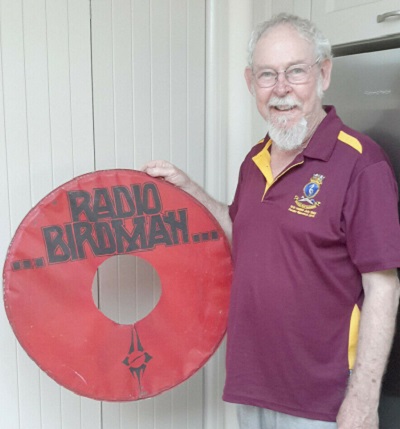 Foundation Radio Birdman drummer Ron Keeley is offering a rare piece of memorabilia for sale on the UK eBay site, taken from his own collection.
This item is a 24 inch (61cm) diameter painted bass drumhead from his white Rodgers kit. It was hand-painted by the band's long-serving bass player and their artist, Warwick Gilbert. It saw action from 1976-78. It was re-used by Ron after Birdman broke up and he joined The Visitors, at that point being covered by a cardboard fascia with that band's logo.
"It was on the kit for ALL the Radio Birdman gigs we played during that time, including all those at the Funhouse, the famous live session at 2JJ Studios, both of the legendary 1977 Paddington Town Hall gigs and many others," Ron said.
"Condition is pretty good considering its age and the number of 'skirmishes' it was involved in…although it's a bit battle-scarred (and stained in places with splashes of beer and other unidentified liquids.)"

The item comes with a personally signed Certificate of Authenticity stating that the drum face is a contemporaneous item from Ron's personal collection, and describing its provenance.