Second Turks tribute on the way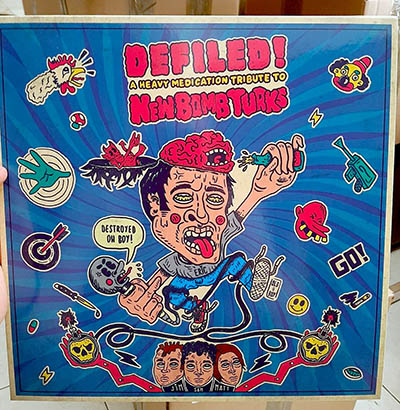 What did we say about it being high time for a tribute to New Bomb Turks? Just when you think it's safe to put your PayPal password away, here's a second collection from Poland-based Heavy Medication.
Label owner and expatriate American, Derrick Ogrodny, first laid ears on the Turks in 1992 and has been loving them ever since: "Almost 30 years later, we're still finding traces of the Turks' flamethrower DNA in hundreds of other bands.
"So it's in their honor we put together an international tribute of bands interpreting their songs, from garage-punk to motorpunk, from speedrock to action rock — and a few surprises too!"
Pre-orders for vinyl or CD editions are open now and here's the line-up which includes Aussies Aberration and Howlin' Threads:
Hell Nation Army – "Point A to Point Blank"
Poison Heart – "Snap Decision"
Aberration – "Rat Feelings"
Doojiman & The Exploders – "Automatic Teller"
Red Crap – "If I Only Could"
Randy Savages – "Leaving Town"
Howlin' Threads – "Professional Againster"
Ville Fantome – "Born Toulouse-Lautrec"
Flash House – "I'm Weak"
Dog Toffee – "Id Slips In"
The Satanic Overlords Of Rock 'N' Roll – "Tattooed Apathetic Boys"
Smalltown Tigers – "Girl Can Help It"
Puffball – "Never Will"
Moron's Morons – "Wine & Depression"
Jack Saint – "Grounded Ex-Patriot"
Tongue Action – "Telephone Numbrrr"
Hell Nation Army – "I Want My Baby… Dead ?!"
Jet Boys – "Killer's Kiss"
Tags: new bomb turks, aberration, heavy medication records, doojiman , defiled