Sunny summer as Sunnyboys announce tour and more re-issues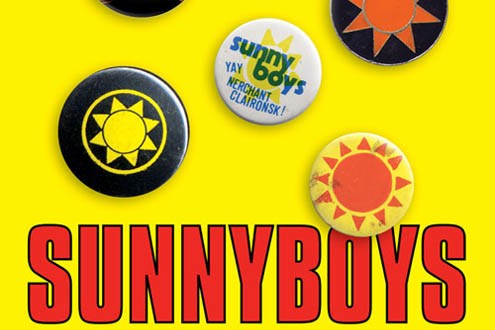 Comeback kings the Sunnyboys have announced a full-blown Aussie summer tour, along with deluxe releases of their second and third studio albums.
The 2015 tour will include shows in Brisbane, Sydney, Melbourne and Adelaide plus a slot at the Perth International Arts Festival, just the second Sunnyboys appearance in the W.A. capital since 1984.
Brisbane and Sydney will be treated to appearances by their former sparring partners, the Riptides. Other guests on the February tour include The New Christs (Melbourne and Sydney) young punks Bad // Dreems (Adelaide) and Dom Mariani's post-Stems vehicle DM3, in Perth.
The 2015 tour will follow a series of sold-out east coast shows in 2013-2014, national theatre release of the feature-length documentary "The Sunnyboy", a live appearance on ABC-TV show "The Crack-Up" for Mental Health Week and the deluxe re-issue of their rightly celebrated eponymous debut album.
In the post-punk gloom of 1980-1982, occasional double-bills of Sunnyboys and Riptides became the stuff of legend. Although the initial lifespan of the Riptides had them lasting just five years (1978 - 1983) their live legacy and tracks like "'77 Sunset Strip", "Tomorrow's Tears" and "Only Time" have remained and the band have reformed sporadically over the years to great success.
Frontman Mark Callaghan has overseen release of what would have been the Riptides' debut studio album, "Tombs of Gold." Recorded in 1982 but mixed just this year, it's available right now on vinyl and CD.
Sunnyboys albums "Individuals" and "Get Some Fun" are to be re-packaged and remastered with a bevy of bonus tracks. "Individuals" is having a major overhaul with eight of the original tracks stripped from the album completely and replaced by alternative mixes found just last year in the archives of album producer, the late Lobby Loyde.
The original version of "Individuals" has long been a thorn in the side of Sunnyboys members who were unhappy with the released versions and the decision by their record company to release it rather than remix it. It will be rounded out by the 7" version of "Show Me Some Discipline" plus B-side "Pain" and a five-song live session recorded in Sydney by Triple J in early 1982.
"Get Some Fun" will comprise the complete album recording sessions including singles "Love In A Box" and "Comes As No Surprise", four non-album tracks and a five-song live performance taken from the infamous Narara Music Festival held on a farm in rural NSW in 1984. Expect both albums in early 2015.
Tickets for SUNNYBOYS - IT'S A SUNNY DAY TOUR go on sale on Friday, December 5 (except where noted). Full dates below.
Thursday 5th March:
Melbourne, The Forum + The New Christs
Tickets $63.00 + bf (additional fees may apply) from ticketmaster.com.au, phone 1300 111 011 or in person at all Ticketmaster outlets.
Friday 6th March:
Perth International Arts Festival + DM3 *
Tickets $55.00 - $60.00 from perthfestival.com.au, phone (08) 6488 5555 and in person at all Ticketek outlets.
Sunday 8th March:
Adelaide, The Gov + Bad // Dreems #
Tickets $60.00 inc fees (credit card fees may apply) from adelaidefringe.com.au, feelpresents.oztix.com.au, phone 1300 762 545 or in person at the Gov and Oztix outlets.
Friday 13th March:
Brisbane, The Tivoli + The Riptides
Tickets $67.00 + bf (additional fees may apply) from ticketmaster.com.au, phone 136 100 and in person from all Ticketmaster outlets.
Sat 14th March:
Sydney, Enmore Theatre + The Riptides & The New Christs
Tickets $73.60 + bf (additional fees may apply) from ticketek.com.au, phone 9550 3666 or in person from the venue and all Ticketek outlets.
* on sale now
# on sale Friday 28th November
Tags: dm3, live, australia, sunnyboys, tour, new christs, riptides, summer