Sydney: Are you ready for some Darkness?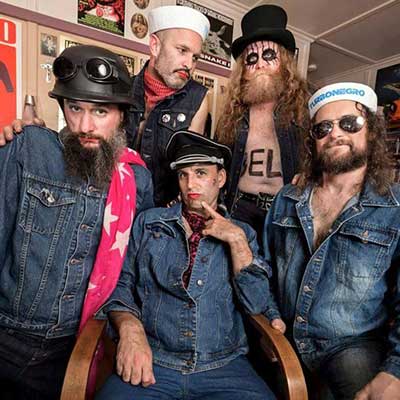 Are you ready to rock in double denim? Are you ready for the infamous Turbobelco? The pride of Belconnen and of this nation's capital hits Marrickville Bowling Club on Saturday, May 21.

Yes, there are many Turbonegro tribute bands throughout the world, but Turbobelco are one of the greatest denim-clad homages to Norway's kings of Deathpunk rock 'n' roll that you're ever likely to witness. The five-piece features members of The Vee Bees, The Levitation Hex (Adam Agius, also ex Alchemist), Law Of The Tongue and Pod People, with the flame-haired Baron Von Kreep on vocals.

Supporting will be no less than arguably Wollongong's finest punk 'n' rollers to surface in recent years, the re- formed Hy-Test, playing their first Sydney show in years.
Also on the bill are The Neptune Power Federation recently released their second album, boast members of Nancy Vandal, Frenzal Rhomb and Fattura Della Morte among their ranks - and they rock like it's 1986!
Opening will be the mighty Mucho Sonar, whose sound has been described as "Motorhead plays Little Richard. Complete with face melting horn section." Getting the party started will be the DJ Crucifox and the Turbojugend Sydney DJs. It runs from 6pm till midnight and tickets are $12 at the door (or $10 for Turbojugend members.)
Tags: live, marrickville, turbonegro, turboleco, hy-test