The Breadmakers to send off a mate on January 29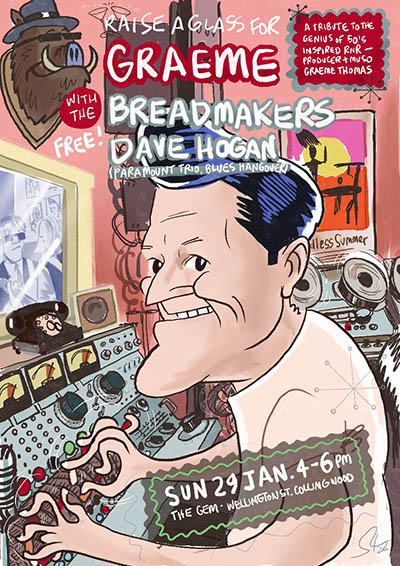 It was with great sadness that Melbourne cult retro band The Breadmakers learned of the passing of their old pal, Graeme Thomas, of the Preston Records studio and label, in November last year.
Thomas was hugely influential to just about any roots, rockabilly or rock 'n' roll musician in Melbourne in the 1980s and 90s – and it was no different for the young Breadmakers. They'd heard some of the amazing recordings that Graeme had made in his home-built studio that sounded exactly like they had come out of the '50 and '60s and asked him to record them too.
Graeme was a musical perfectionist, and taught the band so much about getting the sounds they liked in the studio. He could make his studio sound like Sun Studios in Memphis, or just about any other vintage studio by moving microphones, changing amplifiers and rearranging a few baffles.
Graeme once offered to truck in enough soil to completely cover the studio floor so that he could get the sound of the Fortune Records Studio from Detroit Michigan, which famously had a dirt floor.
Graeme was a true eccentric and loved experimenting with his primitive recording equipment. At the conclusion of one track the Breadmakers recorded with him, there's a strange reverbing sound. Graeme explained to the band that it was a recording he'd made of an olive being dropped into his martini glass played backwards on a loop!
Once, he wanted a song to sound more "live"…so he added a bit of crowd noise from the Beatles 1964 Festival Hall concert as backing!
The Breadmakers will miss their old friend and mentor (although he did nearly incinerate the whole band in his backyard once when his 1950's BBQ exploded!) and so they have organised a special send-off show on Sunday, January 29 at The Gem in Collingwood from 4-6pm.
It's not a benefit show, it's just an afternoon of free music to give folks the chance to come and "raise a glass for Graeme".
The Breadmakers, ended up recording three albums with Graeme and their special guest on the day. Dave Hogan also recorded three albums at Preston Studios (two with the Paramount Trio and one with his Blues Hangover). Dave will be joining the Breadies to do a special bracket of songs off the first Paramount Trio album.
Tags: the breadmakers, the gem, graeme thomas, dave hogan, blues hangover