The Johnnys mark 40 years with NZ tour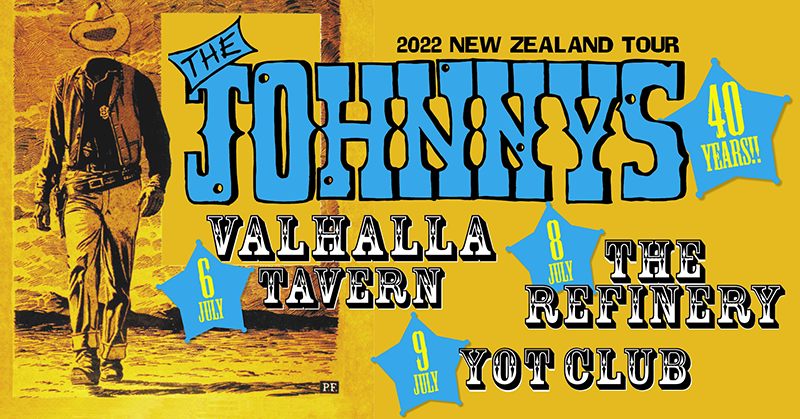 Trailblazing Australian cowpunks The Johnnys will celebrate their 40th anniversary with a handful of New Zealand concerts in late July - their first tour there since the pandemic and only their third in 32 years.
The Johnnys' barnstorming shows at legendary NZ venues like The Gluepot and Warners back in the '80s made an impenetrable impression.Their 1986 album "Highlights Of A Dangerous Life" was a runaway success in Australia and New Zealand. It was firmly embedded in the NZ Album Top 20 chart, where it remained for 10 weeks, thanks to infectious tracks like "Bleeding Heart", "Injun Joe", and "(There's Gonna Be A) Showdown".
The band – comprising Kiwi-born Graham Hood (bass and vocals), Slim Doherty (guitar) and Billy Pommer Jr (drums) - broke a 28-year drought when they visited in 2018.

Says Graham Hood: "We're stoked to make it back. It's been way too long and the lockdowns on the Aussie side of the ditch seemed to be endless."
The Johnnys formed in Sydney in 1982 when Hood (ex-Normals) tried out for the Hoodoo Gurus after quitting the Allniters. He met Hoodoo Gurus' guitarist Roddy Ray'da and, with drummer Billy Pommer Jr, they formed The Johnnys, playing their first show at Palms Disco on Oxford Street in Sydney. Spencer P. Jones joined on guitar and the four-piece released their single "I Think You're Cute" before joining major label Mushroom.
They racked up eight singles and three albums, played the length and breadth of Australia and New Zealand – convening an instant party wherever they went – and cemented their place as the indisputable, rough riding champions of cowpunk.
The Johnnys 40th Anniversary NZ Tour
JULY
Saturday 2 – Punk It Up V, Power Station, Auckland
Wednesday 6 - Valhalla, Wellington
Friday 8 - The Refinery, Paeroa
Saturday 9 - The Yot Club, Raglan
Tickets here
Tags: auckland, the johnnys, new zealand tour, punk it up, 2022, valhalla, the refinery, paeroa, the yot club, raglan