The Television Addicts play the songs of The Victims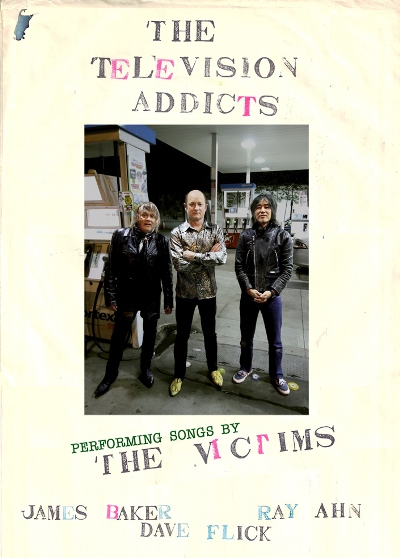 The planets have aligned and the World's Worst Kept Secret is out. Legendary Perth punk band The Victims are (almost) reforming for select Australian East Coast shows.
The Victims were temporarily reincarnated in the guise of The Television Addicts, playing a one-off gig at The Rosemount Hotel in North Perth in August last year.
Founding Victims members James Baker and Dave ("Flick") Faulkner were joined on stage by lifelong Victims fan Ray Ahn and the trio proceeded to belt out a set of classic Victims tunes, most of which had not been heard since the band broke up in mid-1978.

Another unannounced gig followed in Sydney for Clyde Bramley's 60th birthday party.

This February, Melbourne, Sydney and Brisbane will also get a chance to see The Television Addicts for one night only.
Thursday 12 Feb: The Reverence Hotel, Footscray VIC
(supported by Sun God Replica and Deep Heat)
Tix: www.reverencehotel.com
Friday 13 Feb:
Newtown Social Club, Newtown NSW
(supported by Bruce and Thorax)
Tix: www.newtownsocialclub.com
Saturday 14 Feb:
Punkfest at The Prince Of Wales Hotel, Nundah QLD
(supported by Screamfeeder, 1.1.1 and Loud Goes Bang)
Tix: www.oztix.com.au
This is the closest thing you'll get to a full-blown Victims reunion. Come and see what all the fuss is about.