Details

By

The Barman

The Barman
They were robbed, mate. You can help.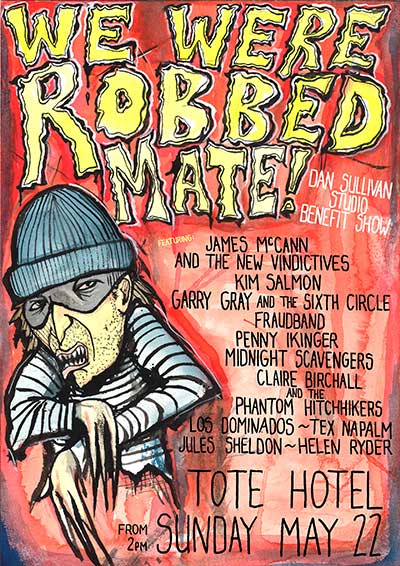 In early May thieves broke into Dan Sullivan's Johnston Street recording studio in Melbourne and stole guitars, effects pedals and recording gear worth thousands of dollars.
Despite the best efforts of friends and fellow musicians, the equipment and gear has yet to be recovered, leaving Sullivan and James McCann personally and financially devastated.
The studio has recenty been used (for free) to record tracks for an upcoming Spencer P Jones tribute album.
On Sunday, 22 May members of the Melbourne music community will come together at The Tote in Melbourne to raise money to replace the missing gear. The event will feature performances from Kim Salmon, Garry Gray & the Sixth Circle, James McCann & the New Vindictives, Penny Ikinger, Midnight Scavengers, Fraudband, Los Dominados, Claire Birchall & the Phantom Hitchhikers, Jules Sheldon, Helen Ryder and Tex Napalm.
Come along and see some great music, while helping out some hard working members of the Melbourne music community in a time of need. Keep an eye on the Facebook event for playing times and to spread the word.