Vale Beasts of Bourbon and Surrealists drummer Tony Pola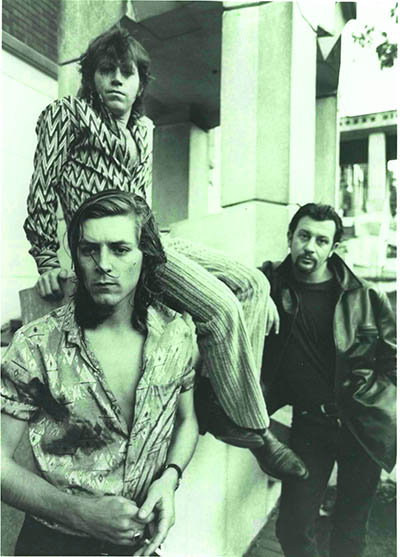 Tony Pola - drummer for Beasts of Bourbon, The Beasts and Kim Salmon and the Surrealists - passed away over the Easter weekend. His wife Katherine Pola made the announcement via a Facebook post.
The West Australian-based drummer (pictured far right with The Surrealists), with bass player, the late Brian Hooper, and Kim Salmon had a reputation as one of Australian music's most irascible and eccentric characters. He was a founding member of The Surrealists, as well as drummer on the Beasts of Bourbon's "breakthrough" classic, "The Low Road".
Bandmate Kim Salmon has launched a GoFundMe campaign to cover the costs of Tony's funeral. You can make a contribution here. Kim also posted a tribute online:
I thought you were indestructible. Another Keef!
All the improbable things that happened round you, because of you, that could only happen to you. I tried to put them all in a song but that became two songs, then three then…. you're everywhere in my music bro! There's so much about your life that seemed to be lived to entertain however low you were unfortunate to sink to… there's always a crazy story in it. Your life was an act of generosity and you lived it for all who were around you. Even when you were taking everything you could ( in every sense of the word). All was forgiven long ago…….
But for me the best times were the early days of the Surrealists.
You me and Brian all living in a different capital city and still managing to make a couple of absolute gem albums on time borrowed from the Beasts of Bourbon (it was still James and Boris in those days). It was in those days I found out what a knowledgeable, immensely likeable and popular rascal you were. I don't think you'd quite graduated to full blown rogue status by then…. But my gawd…who else would not get let on a plane because they arrived at the airport without their shoes, only to arrive in Sydney on the evening flight in time for the gig with 2 left shoes!
I was so glad, after having been estranged from you for a while to find you obviously very happy and with your beautiful wife Katherine. It was wonderful to record an album with you and the Beasts and to do a couple of tours round Australia.
Mostly I'm going to miss the bizarre conversations that only you and I could have.
Tags: beasts of bourbon, kim salmon, surrealists, the beasts, tony pola