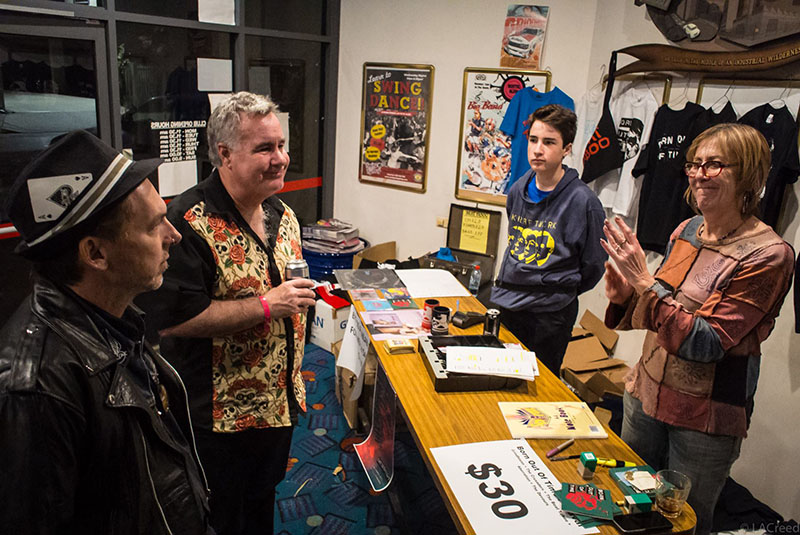 Alan Creed photo.
News broke on Thursday night and into Friday. It's taken tjhis long to post something because it's been so hard to process.
Sue was a dear friend to me and many other people who are, or have been, immersed in the Sydney live music scene for a very long time. I'd spoken to her at length the day before she was unaccounted for. An SMS on Tuesday went unanswered.
If you've attended a show by a band in Sydney in the last 30 years, Sue probably booked it or knew the person who did.
Sue booked The Excelsior Hotel in Surry Hills, which was a mainstay of the live scene until its closure in 2011. It was the last serious room left in the inner-city after the Hopetoun went under. The Excelsior went through many incarnations down the years. Radio Birdman played their first public gig there in 1974.
Sue wasn't at the Ex back then, of course. It was many years later she when became close friends with Rob Younger when they worked together at APRA AMCOS. Their friendship out-lived Rob's tenure and since then they'd spoke weekly by phone, if not more often.
Radio Birdman never went back to the Excelsior after their initial short run, but the New Christs sure did. They brought down the curtain on the place by playing its final night after a pub magnate bought it to convert it into a lame Mexican-themed bar selling over-priced nachos.
The Exclesior was a stepping stone for many bands and a place where those looking for their first show could front up and get a hearing. "How many people do you pull?" is a standard line from bookers for bands seeking a gig. If the answer is "three-fifths of not many" you can usually tell your story walking.
Not Sue. She was always mindful of her obligations to the venue owner, but If there was a slot on the bottom of a bill on an off-night where an act could test the water, she'd come through. Unlike many bookers, she cared.
The Ex wasn't the biggest or most prestigious gig on the Australian East Coast but it felt like a lounge room for me and many others. HITS, Spencer P Jones, Six Ft Hick, X, Rob Younger's Nanker Phelge and scores more made it their venue of choice.
When the Ex shut up shop, Sue found a new room in Haymarket, called The Square. It was a dank, hole underneath a pub but had a reasonable PA and Sue worked hard to establish it as a viable venue.
Lack of owner support made it a thankless task; others assumed the booking job and ultimately failed. Sue had chosen to move on to The Sando in Newtown and put me forward to the pub as Sunday night booker. That was fun before the CommBank moved in and shut the pub. Sue's help was invaluable.
Sue would go out of her way to help complete strangers, because it was the right thing to do. Sue's knowledge of who was who in the music scene was encyclopedic.
Sue loved a Jack and Coke and could party with the best of them. When Ian Rilen was on the rampage, there weren't too many people who could rein him in. Sue was an exception and more than tolerant than even Ian's long-suffering manager Greg Sawers, as I recall.
Sue also loved a chat. If she called, you cleared the diary. It might be to bounce an idea or to pass on some news. Sue wasn't a gossip – discretion was her strong suit – but she invariably knew what was going on, with whom, and where it was safest to tread.
Outside of music, Sue was devoted to her parents and her cats. I remember when she plunged on her first mortgaged unit and how excited she was to have her own place. Most Saturdays were spent pencilling for a bookie. Then, a gig. Sue wasn't a big punter, to the best of my knowledge, but racing was in the family..
More recently, she was assisting Tiffany Palmer with the Rock and Roll Markets and the community markets at Newtown. Sue was booking her share of Marrickville Bowling Club shows and as she didn't drive, manager Heather Goodman would often drive her home after shows. People did things for Sue because she did things for other people without any expectation of receiving anything in return.
Sue and I worked together with Peter Fenton (and a cast of a dozen helpers) to put on a Sydney benefit show for Spencer P Jones in 2016. One of Sue's priorities (among many that night) was buying a T-shirt from the event for her brother so he didn't miss out. With Sue at the helm, that sprawling, ego-infested extravaganza ran like clockwork - with a substantial sum of her own money floating it.

The event raised a motza for SPJ. That iconic industry name who refused to follow-through on a promise to help after a call at home from Sue the night before is one of the few people I've heard of who'd earned a permanent place on her shit list.
You often hear people praising those who have departed. The outpouring of grief is sometimes forced. In Sue's case, you won't hear a bad word. I'd like to think that Sue is raising a Jack and Coke with Ian Rilen right now. With a long line of people ready to buy Sue the next drink.
FOOTNOTE: The service will be held at 2pm Tuesday 02/07/19 at St Albans Anglican Church Epping, Pembroke Street, Epping in Sydney.