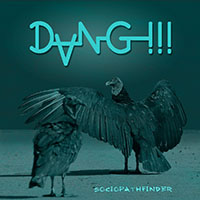 Sociopathfinder - Dang!!! (Apollon Records)
What the difference between a "supergroup" and a "super group"?
The answer and five bucks will get you a cappuccino, but only if the pandemic-induced labour shortage that's hit coffee shops in these parts mean there's someone on deck to make it for you.
While you're pondering the problem you might go cold turkey with your Wordle obsession and cock an ear to what's in these grooves.
Dang!!! is a Norwegian studio collaboration that started with Arne Thelin (ex-Lust-O-Rama, Kwyett Kings) and Stu Manx (ex-Gluecifier) swapping guitar riffs over the Internet during lockdown. One thing led to another and by the time they convened in a real studio with drummer Havard Takle Ohr and keyboardist Geir Nilsen, emailed music parts were flying in from all over the globe like members of the International Olympic Committee on their way to a fine dining festival.