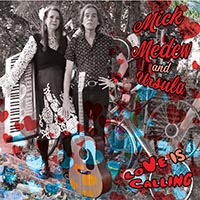 Love is Calling - Mick Medew and Ursula (I-94 Bar Records)
Two years of lockdown were not wasted by Mick Medew and Ursula Collie-Medew. Besides getting married, they also managed to entertain every second Sunday with their live lockdown streaming gigs.
The streaming shows were wonderfully received, with Mick playing some classic songs from his back catalogue with the Screaming Tribesmen and others, plus new tunes, and Ursula sitting in on keyboards on a few. When words reached The Farmhouse that Mick and Ursula were releasing a new CD of songs written over lockdown, I for one was excited to hear how these tunes would sound with full production.
And it's pure gold, folks.