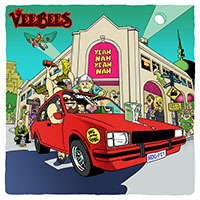 Yeah Yeah Nah Nah - VeeBees (Ocker Records)
Rob Younger once opined that he hated lyrical references to local landmarks in Australian songs. He couldn't imagine anyone wanting to sing about Parramatta Road. Have you been down Auto Alley lately? Fair call.
On the other side of the ledger, it's also been said that bands should write songs about things they know. The VeeBees sing about Wollongong, suburban Canberra, drive-through bottleshops in Sydney's inner-west, drinking, cars, girls and pubs, ad infinitum. There must be a message in that.
And of course "Bulli Pass" rhymes with "arse".