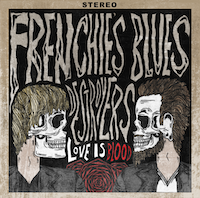 Love is Blood - Frenchie's Blues Destroyers (self released)
Hello, I-94 Barflies! Hopefully, you're all well and healthy folks, and with all this self isolation it certainly gives you plenty of time to listen to the music we love.
Sometimes, something comes along and totally blows your mind. Well, ain't that just fine. So if you want your mind blown, you have to get your gloved hands on this fucking masterpiece.

Frenchie's Blues Destroyers are from Austin, Texas, and "Love Is Blood" is full of dirty sounds. It's based on huge guitar riffs and some quality vocals. But this ain't a blues album; this is garage rock meeting pop, with just a dollop of country blues.