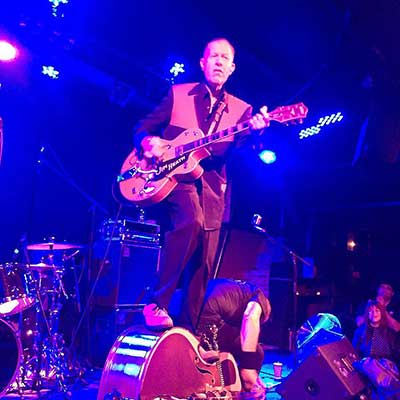 So, ho to the Governor Hindmarsh, best rock pub not only in Adelaide but in Australia as far as I'm concerned. Off to see The Rteverend Horton Heat. Dead opposite the monstrous Ent Cent with its vast bowl of an arena, where the punters, grim at the thought of mystery beer in a disposable plastic cup at a fool's price, head to the Gov for food and drink made by real human beings for real human beings.
It occurred to me tonight, that if I lived around the corner, it's likely this place would see me once a day for something or other, whether it be for lunch or the occasional after workie, or a slap-up dinner for four mates - rowdy, but still, you know, civilised. The bar staff, without exception, have always been excellent, which is not something you can say of most pubs. Those in the band room tonight are brilliant.
Rockabilly has had a huge revival over the last couple of decades. I remember the first revival, spearheaded by the Stray Cats tour in, I think, 1981; a large number of punker types went and, the following weekend, about five percent were wearing quiffs. And it kinda grew from there, I think, mostly as an underground thing, but it never quite had the spotlight turned on it in the way that the Cats copped it.
But with the Reverend Horton Heat playing alongside what they call "punk rockers" in the late '80s and early '90s, and sharing the same label, Sub-Pop, as Nirvana, when Cobain and co. suddenly broke all over the world, everyone interested in Cobain and co. bought LPs from Sub Pop - and the Heat had a sudden increase in fans world-wide. Without really intending to, Jim Heath (as his custom scratch plate declares) was the spark-plug that triggered an engine of revolution.
Details

By

Robert Brokenmouth

Robert Brokenmouth