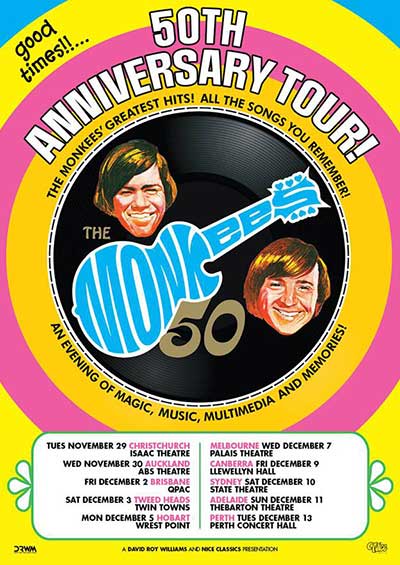 It might just be the ultimate baby boomer pop experience. The rumours are true. The Monkees are bringing their 50th anniversary tour to Australasia.

Assembled in Los Angeles in 1965 by Bob Rafelson and Bert Schneider for the television series The Monkees, the quartet of Micky Dolenz, Michael Nesmith, Peter Tork, and the late Davy Jones brought a singular mix of pop, rock, psychedelica, Broadway, and country to their music.
The show itself paid tribute not only to The Beatles, but also to the comedy stylings of The Marx Brothers and Laurel and Hardy as well as the pop-art sensibilities of Warhol and the emerging San Francisco psychedelic scene.

The Monkees' first single, "Last Train to Clarksville," was released in August 1966, hitting #1 and serving as advance publicity for their series, which debuted on September 12. When the group's self-titled debut album arrived in stores a month later, it quickly headed for the top spot of the Billboard charts, where it would ultimately sit for 13 of the 78 weeks it remained in the Top 200.

By the time the group's TV series aired its final new episode on March 25, 1968, The Monkees had seen three further albums top the charts – "More of the Monkees", "Headquarters", and "Pisces, Aquarius, Capricorn & Jones, Ltd.", all released in 1967.