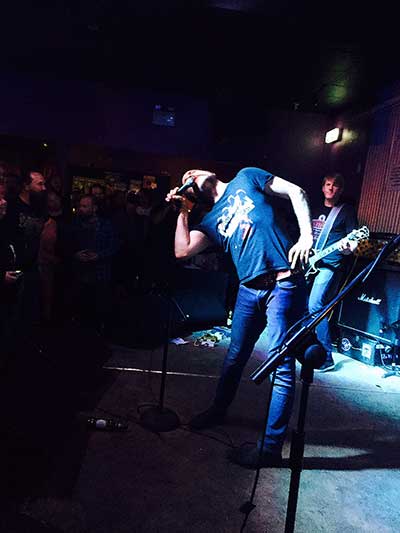 Never seen Lizard. Look like surfies. Hard rock. You might like it.
Never seen Numbskulls. Fast hard rock. Some pretty good playing and a few really good structures. You might like it.
A lot of the audience enjoyed the support bands. To me they seemed a bit too formulaic. That said, make your own minds up. The Numbskulls T-shirt is worth buying - the logo is terrific. They have CDs as well. Check them out.
Never seen The Meanies, neither. I didn't even know they were in town until two days ago. I remarked on seeing Link's band, Sun God Replica, in Melbourne recently. I loved Sun God Replica. Amazing band. Damn fine songs, great, tuff, fast'n'bulbous structures. See Sun God Replica. Demand T-shirts. Buy CDs. Christmas is coming. They're on Spooky Records. Get out there.
The Meanies have a new album out. Buy the LP, CD and T-shirt. Before they sell out like all the others. I asked the chap in Basement Discs in Melbourne about Meanies records and CDs. They're currently out of print, apparently. They're hugely popular, so popular that they don't turn up second-hand very much.
Tonight The Meanies were hugely thrilling, great fun, absorbing, ridiculous and endlessly admirable. Quickly on the band: they're tight, they know how to accommodate their frontman, but they're clever enough to give themselves enough variety within the songs so that the whole band shines. Link McLennan takes The Meanies up onto a different cloud, however.