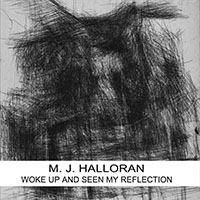 Woke Up and Seen my Reflection - M.J. Halloran (Torn & Frayed Records)
Well, it's been nearly a month since I was almost not here at The Bar anymore. And here I am, finally getting to a few reviews before I shut down again and get on with "my book".
MJ Halloran's "Woke Up and Seen my Reflection" was recorded in Melbourne live to two-inch tape with his long-time collaborators Steve Boyle (Moler, Hungry Ghosts, Rowland S. Howard, Brian Henry Hooper, among others) and Tim O'Shannassy (The Paradise Motel, Penny Ikinger, Belle Phoenix, Brian Henry Hooper, among others) with the addition of Andrew McGee (the founder of Shock Records), and guest performances from Kim Salmon (who you've never heard of, right?).
There's a good back story to how it came about too.
Steve, Tim, Andrew and MJ decided to try, in Melbourne, what they'd done previously with Steve Albini in Chicago. That is, recording in one room without overdubs. So, they'd better get it right first go. MJ's press notes remark that Link Wray was a good reference point, as Wray did something similar with his 1971 self-titled record from 1971, which he recorded in a converted chicken barn.
Details

By

Robert Brokenmouth

Robert Brokenmouth