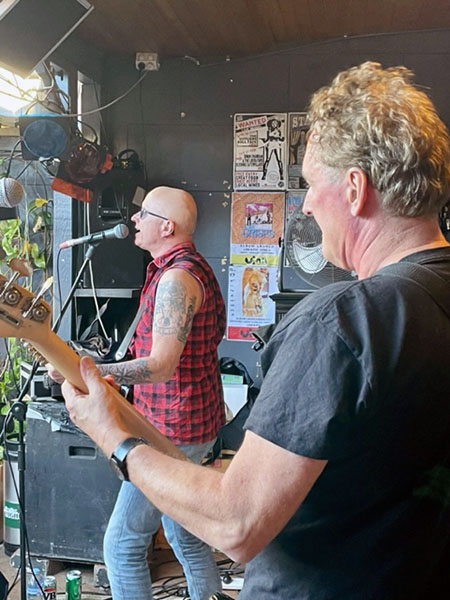 Chris Masuak and Dog Soldier
The Silver Dragons
Link and Pin Café, Woy Woy
Sunday, 21 May 2023
We still want to cling to memories of our youth and for some it's easier than others. Some say this music thing is an affliction. Others joke that it's a curse and others consider it fun.
When we were teenagers or aged in our early 20s and seeing bands I don't think we would have imagined that some of us would still would still be doing so 40 years later. In fact, I used see the musos on stage aged in their late 20s and think they were really old farts.
Well here I am on a Sunday afternoon, on the noisy express to Newcastle full of screaming kids and even louder adults bellowing, as the train weaves snake-like past the Hawkesbury River, on my way to another afternoon gig at the Link and Pin in Woy Woy. Heading to see Chris Masuak and one of his rare Australian tours these days.
The Link and Pin is venue of another time: an oasis that exudes an old-time vibe as you walk in. It's like you stepped into a place not quite rural and certainly not inner-city despite its rock posters and wall full of underground records. The beer garden is rustic and packed as the drinks flow. I have never have not had a good time there.
Details

By

Edwin Garland

Edwin Garland