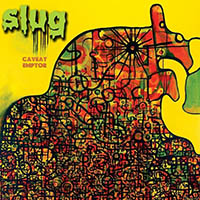 Caveat Emptor - Slug (self released)
Lismore band Slug play a dangerous game, virtually begging you to dislike them. I mean, a name like Slug. Whilst multiple meanings tag themselves to that particular noun, none invite joy.
And if you call your album "Caveat Emptor" (essentially buyer beware), you may be discouraging potential clientele. Add three guitarists, one billed as noise guitar, and you run the risk of emptying the hall before playing a note.
But that would be unfortunate because Slug most definitely have a thing. It's not your usual thing.
But who wants your usual thing?