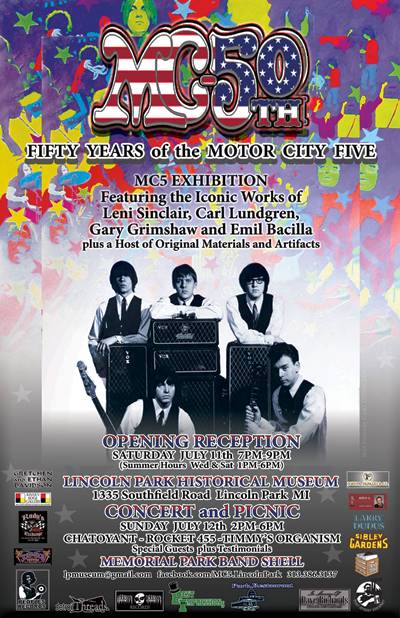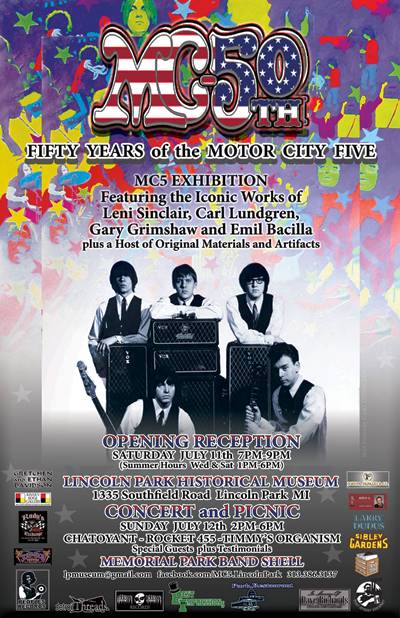 They can't crack it for a place in the Rock and Roll Hall of Fame but the MC5 will be honoured with a 50-year retrospective exhibit and concert in their Detroit-area hometown of Lincoln Park, Michigan, at the Lincoln Park Historical Museum.

An open reception will be held on July 11 with a concert on July 12. The exhibit will run through Labor Day, September 7, with regular museum hours (Wednesdays and Saturdays from 1-6pm.) Admission to all events is free though donations to the Lincoln Park Historical Society are encouraged.

The exhibit highlights iconic photos by Detroit photographer Leni Sinclair and Lincoln Park-raised Emil Bacilla, original psychedelic posters by Carl Lundgren, and Gary Grimshaw (also raised in Lincoln Park) and band memorabilia (including personal artifacts from the Derminer/Tyner family.)

The concert will be held in the Park Band Shell in Memorial Park - one of the earliest sites where the MC5 played – with music from Timmy's Organism, Rocket 455 and Chatoyant.

Surviving MC5 members Wayne Kramer and Dennis "Machine Gun" Thompson and the families of Rob Tyner, Fred "Sonic" Smith and Michael Davis have been invited. While Kramer is unable to attend, Thompson will be in attendance at both the Saturday and Sunday events.

While the band was the target of establishment harassment during its existence, the afternoon concert will be marked by Lincoln Park Mayor Tom Karnes presenting the keys to the city. Ain't irony grand?

A limited edition of Carl's Lundgren's artwork created for the anniversary celebration poster will be available for purchase at the opening night and on the day of the concert. The Lincoln Park Historical Museum website is here.