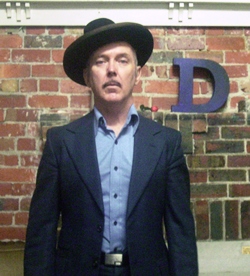 With his entire back catalogue now available digitally, including the latest, "Play mistLY For Me", the first of two live collections available now, Dave Graney and The mistLY are playing some shows in New South Wales in May.

The tour is a mix of band and solo shows in a range of venues.
27/05 Wednesday - Bearded Tit –Redfern - Dave Graney solo
28/05 Thursday Heritage Hotel Bulli - Dave Graney and the mistLY
29/05 Friday Django Bar – Camelot Lounge - Dave Graney and the mistLY
30/05 Saturday Bunker - Coogee Diggers - Dave Graney and the mistLY
31/05 Sunday Newcastle - Royal Exchange - Dave Graney solo
We asked Dave what fans should anticipate: "Expect many wildly shining gems from their enormous and highly individual songbook. Plenty say they do their own thing – none have done it for so long and so fearlessly!"

Indeed.