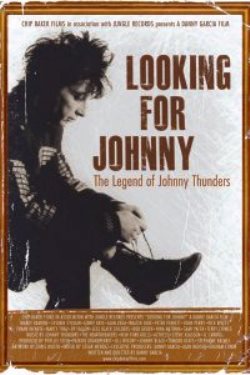 Seems not so long ago (and in fact, it was the late 1980s) that the shadow of a still breathing, although not always fully-functioning, Johnny Thunders was almost everywhere you looked. His records filled the racks and every second person in a band wanted to look like, if not be, JT. As in buying the T-shirt with no need to tap a vein.
It was P.I. (Pre-Internet) so we didn't have the same visual options that YouTube and Torrenting now offer, but you had to wonder how someone whose wasted pictures and sound defined the term "fucked-up" so convincingly could continue to make music.
Of course, way down in Australia we got our answer when an at least partially cleaned-up Johnny toured, with the ever-present legend Jerry Nolan on drums and a real live Sex Pistol, Glen Matlock, on bass. That had to be the year I was overseas, but by all reliable reports The Man and His Band were both lucid and great.
His music tends to be overshadowed by the fact that Thunders was a hardcore junkie for the second tw-thirds of his career, at first by choice and then, over the years, by necessity. You might argue that he also milked that reputation for all it was worth, to the point that it was a marketing tool as much as a cross to bear.
Details

By

The Barman

The Barman